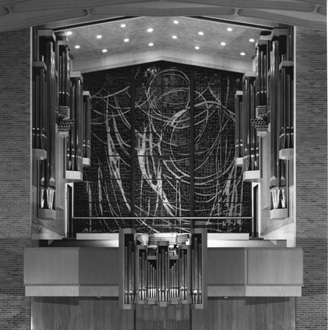 1985 Schudi at St. Michael and All Angels CHurch in Dallas, TX.
Concert Clips
…'live' and lively performances by some 'rising stars' and established talents of the American organ scene.
Listen to the program
For the convenience of those of you with mobile devices, now you can listen to our PIPEDREAMS audio at http://www.yourclassical.org!
Program Broadcast dates:
Week of September 19, 2016
Links and Resources:
Music played in the program
Hour 1
RENÉ BECKER: Prelude, Op. 16; Toccata, fr Sonata No. 1, Op. 40 –Damin Spritzer
BILLY NALLE: Trio in the Style of Bach (Alles was du bist). IAIN FARRINGTON: Celebration, fr Fiesta. CARLYLE SHARPE: Confitemini Domino –Imperial Brass/James Emery, director, Michael Shake
CALVIN HAMPTON: Antiphon, fr Suite No. 1 –Chris Brunt
HECTOR BERLIOZ (arr. Diaz): March to the Scaffold, fr Symphonie Fantastique –Imperial Brass/James Emery; Hyeon Jeong & James Diaz
ROBERT ELMORE: Donkey Dance. JOHN WEAVER: Introduction & Fugue on St. Denio –Colin Howland
Performances in this hour were presented as a Pipedreams Live! event at St. Michael and All Angels Church in Dallas, TX and its 78-rank 1985 Schudi organ (r. 11/18/14). Thanks to recording engineer George Gilliam! Michael Barone returns to Dallas on Sunday afternoon (October 23) for another Pipedreams Live! event at at the Meyerson Symphony Center. Come on down!
Hour 2
CRAIG PHILLIPS: Fantasy on Sine nomine. PHILLIPS: Tribute (A Lullaby) –Jonathan Biggers (Aeolian-Skinner/Washington National Cathedral, DC) Pipedreams Archive (r. 3/22/15)
JULES MOUQUET: Pan and the Birds, fr Flute Sonata –Randolph Bowman, flute; Benjamin Sheen (1929 Skinner/Union Depot-Museum Center, Cincinnati, OH) Pipedreams Archive (r. 2/29/16)
ALEXANDER PIERRE FRANOIS BOËLY: Fantasy & Fugue in B-flat –Alcee Chriss III (2001 Lively-Fulcher/St. Olaf Catholic Church, Minneapolis, MN) Pipedreams Archive (r. 9/18/15)
PERCY WHITLOCK: Fantasie Chorale No. 1 in D-flat. CALVIN TAYLOR: Spiritual Prelude, Were you there? RICHARD WAGNER (trans. Lemare): Ride of the Valkyries, fr Die Walküre –Alcee Chriss III (Aeolian-Skinner/Washington National Cathedral, DC) Pipedreams Archive (r. 10/11/15)