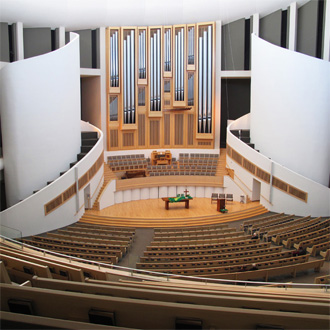 1993 Casavant Freres at Community of Christ Temple, Independence, MO
Organ Plus
…whether combined with saxophone, brass ensemble, chamber orchestra or symphonic ensemble, the King of Instruments proves itself an able and amiable companion.
Listen to the program
1 hr 58 Min
59:00 Min
59:00 Min
For the convenience of those of you with mobile devices, now you can listen to our PIPEDREAMS audio at http://www.yourclassical.org!
Program Broadcast dates:
Links and Resources:
Music played in the program
Hour 1
FRANZ JOSEPH HAYDN: Organ Concerto in C, H. XVIII, Number 5 –German Bach Soloists, Helmut Winschermann, conductor; Daniel Chrozempa (1750 Anonymous/Franziskanerkirche, Eisenstadt, Austria) Philips 6500.359/60
JACOBUS KLOPPERS: Celebration, from Carolingian Temperaments –William Street, saxophone; Marnie Giesbrecht (1978 Brunzema-Casavant/Convocation Hall, University of Alberta, Edmonton, Alberta, Canada) Eclectra CD-2076
LLOYD PFAUTSCH: If thou but suffer God to guide thee, Chorale Fantasy –Missouri Brass Quintet; John Obetz (1993 Casavant Frères/Community of Christ Temple, Independence, MO) RBWCD-008
HORATIO PARKER: Organ Concerto in e-flat, Opus 55 –Ingolstadt Philharmonic, Alfredo Ibarra, conductor; Franz Hauk (1977 Klais/Ingolstadt Münster, Germany) Guild GMCD 7182
Hour 2
JOHN STANLEY: Trumpet Tune –Chicago Brass Quintet; Paul Vander Weele (1963 Casavant Frères/North Shore Congregation Israel, Glenco, IL) Centaur CD-2221
JOHN STANLEY: Organ Concerto in B-flat, Opus 2, number 6 –Parley of Instruments, Roy Goodman, conductor; Paul Nicholson (Goetze & Gwynn chamber organ) Hyperion CDA66338
PETER DICKINSON: Organ Concerto [1971] –BBC Symphony Orchestra, David Atherton, conductor; Jennifer Bate (1954 Harrison & Harrison/Royal Festival Hall, London, England, UK) EMI Classics CDC 47584
HOZAN YAMAMOTO & WOLFGANG MITTERER: From a Distant Place, improvisation –Hozan Yamamoto, shakuhachi; Wolfgang Mitterer (1983 Rieger/Marienkirche, Vienna, Austria) PlayaSound 65199
LEON BOËLLMANN: Fantasie Dialoguée, Opus 35 –Leipzig Symphony, Olaf Koch, conductor; Franz Hauk (1977 Klais/Ingolstadt Münster, Germany) Guild GMCD 7215
This 'encore' broadcast originally aired in August 2011 as Program #1133.