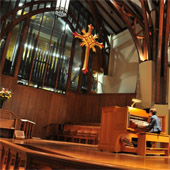 1942 Aeolian-Skinner at St. Andrew's Episcopal Church, Amarillo, TX

1969 Noack at Trinity Lutheran Church, Worcester, MA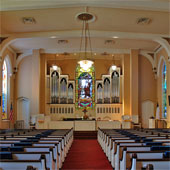 1994 Schantz at 1st Presbyterian Church, Jeffersonville, IN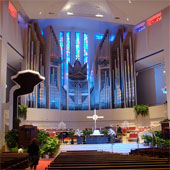 1974 Ruffatti at Coral Ridge Presbyterian Church, Fort Lauderdale, FL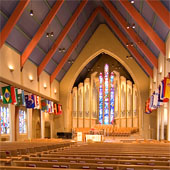 2006 Holtkamp at Boe Chapel,St. Olaf College, Northfield, MN
Brass Tracks II
…whether with a single trumpet or in the context of a full brass ensemble or band, the pipe organ will prevail.
Listen to the program
1 hr 58 Min
59:00 Min
59:00 Min
For the convenience of those of you with mobile devices, now you can listen to our PIPEDREAMS audio at http://www.yourclassical.org!
Program Broadcast dates:
Links and Resources:
Music played in the program
Hour 1
EUGÈNE GIGOUT: Grand Choeur Dialogue –Columbia Brass & Percussion Ensemble/Maurice Peress; E. Power Biggs (1958 Möller/St. George's Episcopal Church, New York City) Columbia 31193
GIOVANNI VIVIANI: Sonata No. 1 for Trumpet and Organ –Edward Tarr, tpt; Claudio Frigerio, cello; Irmtraud Krüger (1581 Romani/Chiesa di San Niccolo, Florence, Italy) Christophorus 77145
CRAIG PHILLIPS: Suite for Organ, Brass and Percussion –WTAMU Faculty Brass Quintet; John Benton, percussion; Joseph Galema (1942 Aeolian-Skinner/St. Andrew's Episcopal Church, Amarillo, TX) Pipedreams Archive (r. 4/23/10)
DANIEL PINKHAM: Dragons and Deeps –Randall Montgomery, tuba; Abbey Hallberg Siegfried (1969 Noack/Trinity Lutheran Church, Worcester, MA) Arsis 143
EINJUHANI RAUTAVAARA: Hymnus –Michael Tunnell, trumpet, David Wagner (1994 Schantz/1st Presbyterian Church, Jeffersonville, IN) Centaur 2793
CARLYLE SHARPE: Prelude, Elegy and Scherzo –Chicago Gargoyle Brass & Organ Ensemble/Rodney Holmes, director; Jared Stellmacher (2006 Triune Music digital-pipe hybrid/St. Michael the Archangel Church, Wheaton, IL) MSR Classics 1598
Hour 2
J.S. BACH: Now thank we all (fr Cantata No. 79) –The King's Brass; Diane Bish (1974 Ruffatti/Coral Ridge Presbyterian Church, Fort Lauderdale, FL) Summit 428
RICHARD STRAUSS: Solemn Festival Entry. PERCY GRAINGER: The Power of Rome and the Christian Heart –St. Olaf Band/Timothy Mahr, conductor; Catherine Rodland (2006 Holtkamp/Boe Chapel,St. Olaf College, Northfield, MN) Pipedreams Archive (r 5/10/07)
BRUCE EDWARD MILLER: Pluto, the Last Planet –Boston Brass/J. Melvin Butler (1965 Flentrop/St. Mark's Cathedral, Seattle, WA) Loft 1022
ERNST SCHIFFMANN: Intermezzo, Op. 53 –Mark Springer, trombone; Charles Echols (2001 Marrin/St. Augustine Church, Saint Cloud, MN) Springer 2008
LEON BOËLLMANN: Fantasie Dialoguée, Op. 35 –Ottone Brass Quintet/Jan Vermeire (1993 Woehl/St. Peter's Church, Cuxhaven, Germany) Talent 2910 108
Enjoy a performance from our Archive of the Craig Phillips Suite for Organ, Brass and Percussion (along with companion works by Richard Proulx and Stephen Paulus) featuring soloist Jonathan Biggers, who implemented the commission of it.
Also explore some additional repertoire for brasses and organ in programs from our Pipedreams Archive:
Brass Tracks I (#1404)
Sassy Brass(#1204)