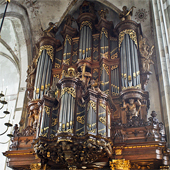 1721 Schnitger at St. Michael's Church, Zwolle, the Netherlands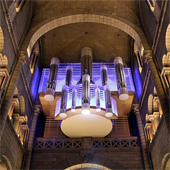 2011 Thomas at St. Nicholas Cathedral, Monaco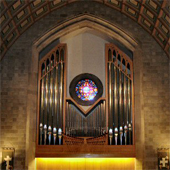 1992 Schantz at 7th Street Christian Church, Richmond, VA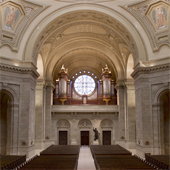 2013 Quimby at the Cathedral of Saint Paul, St. Paul, MN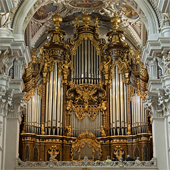 1929 Steinmeyer at Passau Cathedral, Germany
An Organist's Yearbook
…our annual Olde Yeare-New Year reflection, with highlights from recent recordings, concert excerpts, prize-winning performances, memorial tributes, and more.
Listen to the program
1 hr 58 Min
59:00 Min
59:00 Min
For the convenience of those of you with mobile devices, now you can listen to our PIPEDREAMS audio at http://www.yourclassical.org!
Program Broadcast dates:
Week of December 28, 2015
Links and Resources:
Music played in the program
Hour 1
J. S. BACH: Prelude in a, BWV 543 –Todd Fickley (1721 Schnitger/St. Michael's Church, Zwolle, the Netherlands…via Hauptwerk digital samples) MSR 1561
BACH: Wachet auf!, fr Schübler Chorales, BWV 645 –Livia Mazzanti (1930 Steinmeyer/Christuskirche, Rome) Continuo Records 111
EMILE BOURDON: Offertoire pour la Fete de l'Assomption –Olivier Vernet (2011 Thomas/St. Nicholas Cathedral, Monaco) Ligia Digital 0104272-14
MARCEL DUPRÉ: Prelude in A-flat, Op. 36, no. 2 –Marcel Dupré (1863 Cavaillé-Coll/St. Sulpice, Paris) Mercury 478 8388
MARY BETH BENNETT: Ubi caritas et amor –Mary Beth Bennett (1992 Schantz/7th Street Christian Church, Richmond, VA) MBB 2015
CHARLES VILLIERS STANFORD: Magnificat in G –Nathaniel Morley, treble; Choir of St. Paul's Cathedral, London/Andrew Carwood, director; Simon Johnson (2013 Quimby/Cathedral of Saint Paul, St. Paul, MN) Pipedreams Archive (r. 4/28/15)
GEORGE GERSHWIN: They can't take that away from me, fr Shall we dance –Andrew van Varick (Wurlitzer/Colonial Theatre, Phoenixville, PA) ATOS 2015
HENRY MARTIN: Prelude & Fugue in G-flat –Isabelle Demers (1908 Hope-Jones, expanded/Ocean Grove Auditorium, NJ) Pipedreams Archive (r. 7/8/15)
HARRY C. BANKS: Beyond the Aurora –Harry Wilkinson (1933 Skinner/Girard College Chapel, Philadelphia, PA) Pro Organo 7044
WILBUR HELD: Prelude on When in our music God is glorified –Marilyn Biery (1963 Aeolian-Skinner/Cathedral of Saint Paul, Saint Paul, MN) Pipedreams Archive (r. 7/25/2003)
Filler - STANFORD (see above)
Hour 2
BRUCE PRINCE-JOSEPH: Toccata Giovane (1948) –Lucas Fletcher (1927 Casavant-2001 Schantz/St. Andrew's Lutheran Church, Mahtomedi, MN) Pipedreams Archive (r. 7/11/14)
W. A. MOZART: Fantasy in f, K. 608 (finale) –E. Power Biggs (1929 Steinmeyer/Passau Cathedral, Germany) Columbia K3L-231
SIETZE de VRIES: Jesus, meine Zuversicht (2 verses) –Sietze de Vries (1692 Schnitzer/Martinikerk, Groningen, Netherlands) Fugue State Films 1
OLIVIER MESSIAEN: Le mystere de la sainte trinité, fr Les Corps Glorieux –Almut Rössler (1965 Rieger/Neanderkirche, Düsseldorf, Germany) Koch International 315 023
RAFFAELE MANERI: Salve Regina (Concert Etude) –McNeil Robinson (1970 Rushworth & Dreaper/Chester Cathedral, England) L'Oiseau-Lyre 343
MARCEL DUPRÉ: Prelude & Fugue in B, Op. 7, no. 1 –Dexter Kennedy (1947 Aeolian-Skinner/Myers Park United Methodist Church, Charlotte, NC) Pipedreams Archive (r. 7/5/15)
CARSON COOMAN: Prism (2003) –Erik Simmons (1916 Walcker/Martinikerk, Doesburg, Netherlands, via digital-sampler) Diversions 24161
BACH: Fugue in C, BWV 547 –Roger Sherman (1965 Flentrop/St. Mark's Cathedral, Seattle, WA) Loft 1156
Filler - BACH "Wachet Auf" (see above)
As an additional memorial tribute to McNeil Robinson (1943-2015), the late, great New York City organist and teacher, we include this additional example of his improvisatory prowess, derived from a commercial recording (L'Oiseau-Lyre SOL 343) made in 1975 at Chester Cathedral, England. The cathedral's organist Roger Fisher submitted a theme from which Neil created a
(Allegro-Aria-Scherzo-Finale/Fugue, played without pause). The intricacy of thematic development evident through this performance is extraordinary.