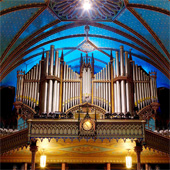 1890–1991 Casavant organ in Montréal's historic Basilique de Notre Dame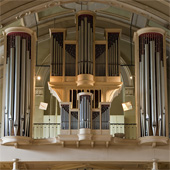 1961 Beckerath at the Immaculate Conception Church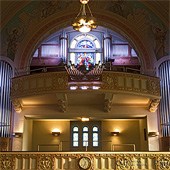 2001-2006 Casavant at Eglise Saint–Anges–gardiens in nearby Lachine
From the Canadian International Organ Competition
…performances by prizewinners of the 2014 concours held in Montreal last October.
Listen to the program
1 hr 58 Min
59:00 Min
59:00 Min
For the convenience of those of you with mobile devices, now you can listen to our PIPEDREAMS audio at http://www.yourclassical.org!
Program Broadcast dates:
Links and Resources:
Music played in the program
Hour 1
W.A. MOZART: Adagio & Fugue in c, K. 546 –David Baskeyfield (1st Prize; RCCO Prize; Audience Prize)
J.S. BACH: Herr Jesu Christ, dich zu uns wend', BWV 655; Toccata in C, BWV 564 –Andrew Dewar (2nd Prize; Bach Prize)
LOUIS VIERNE: Naiades, Op. 55, no. 4, fr Fantasy Pieces, Book 3. J.S. BACH: Fugue in e, BWV 548 –Daria Burlak (3rd Prize)
AD WAMMES: Miroir –Andrew Dewar
CHARLES-MARIE WIDOR: Cantabile & Finale, fr Organ Symphony No. 6, Op. 42, no. 2 –David Baskeyfield
Hour 2
MARCEL DUPRÉ: Prelude & Fugue in B, Op. 7, no. 1 –Christian Lane (1st Prize, 2011 Competition) ATMA 2674
MARCEL DUPRÉ: Prelude & Fugue in f, Op. 7, no. 2 –Daria Burlak
JACOBUS KLOPPERS: Dialectic Fantasy. J.S. BACH: An Wasserflüssen Babylon, BWV 653 –Andrew Dewar
HEALEY WILLAN: Introduction, Passacaglia and Fugue –David Baskeyfield
The Canadian International Organ Competition, held every three years, is among the most prestigious such events for young performers. In years between competition cycles, the CIOC also sponsors an autumn 'organ festival' in Montreal, to which you are invited!
The competiton's final round was played on the 1890–1991 Casavant organ in Montreal's historic Basilique de Notre Dame, the primary instruments heard in this program. Andrew Dewar's Bach selections were recorded at Immaculate Conception Church (1961 Beckerath), and Chris Lane was recorded at Eglise Saint-Anges-gardiens in nearby Lachine (2001-2006 Casavant) for a CD release by ATMA Classique.
These recordings feature the competiton's past and present prize-winners:

David Baskeyfield – (in production; online audio available)
Andrew Dewar – Edition Hera 2118
Daria Burlak – EIC 1
Christian Lane (2011) – ATMA Classique 2674
Fréderic Champion (2008) – ATMA Classique 2604

In its third season, the triennial Canadian International Organ Competition is one of the world's most prestigious contests for young organists. In 2014, the CIOC welcomed an international slate of 16 semi-finalists to Montréal for nearly two weeks of music making. Under the artistic leadership of John Grew, the panel of judges…which included Jacques Boucher, James David Christie, Stefan Engels, Janette Fishell, Marnie Giesbrecht, Olivier Latry, Pier Damiano Peretti, and Dame Gillian Weir…awarded $70,000 in cash prizes plus numerous ancillary benefits.
Watch for details of the next Canadian Concours in October 2017, but remember that in years between competition cycles, the CIOC also sponsors an autumn 'organ festival' in Montréal, to which you are invited now (October 4-25, 2015)!
Enjoy these additional performances by 2014 CIOC Prize Winners:
: Variations sur un psaume Huguenot, Op. 1 (David Baskeyfield)

: Toccata, Adagio and Fugue in C, BWV 564 (Andrew Dewar)

: La Croix du sud, Op. 15 (Daria Burlak)