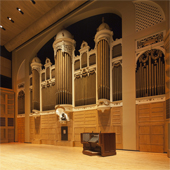 1912 Austin at Merrill Auditorium, City Hall, Portland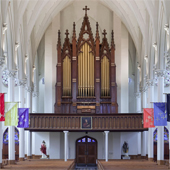 1860 Hook at St. John's Catholic Church, Bangor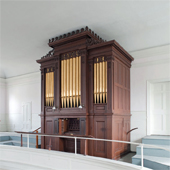 1848 Stevens at 1st Church, Belfast

1863 Hook at Elm Street Congregational Church, Bucksport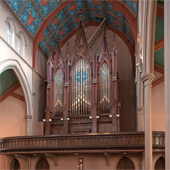 1866 Hook at South Parish Congregational, Augusta
Some Maine Lines
…harmonious counterpoint played on historic instruments, including the recently restored Kotzschmar Organ in Portland.
Listen to the program
For the convenience of those of you with mobile devices, now you can listen to our PIPEDREAMS audio at http://www.yourclassical.org!
Program Broadcast dates:
Links and Resources:
Music played in the program
Hour 1
CARSON COOMAN: Concertino FOKO, Op. 1073. J.S. BACH: Fugue in E-flat, BWV 552/2. LEO SOWERBY: Comes Autumn Time –Kotzschmar Festival Brass; Ray Cornils & Peter Richard Conte (1912 Austin/Merrill Auditorium, City Hall, Portland) Pipedreams Archive (r. 9/27/14)
BENJAMIN CARR: Variations on the Sicilian Hymn –Kevin Birch. BALDASSARE GALUPPI: Allegro e spirituoso per flauti –Gregory Peterson. RICHARD PURVIS: Canzona on Liebster Jesu; Fantasia on Ton-y-Botel –George Bozeman (1860 Hook/St. John's Catholic Church, Bangor) SJOS 101-97.
SAMUEL WESLEY: Fugue in G, Op. 6, no. 8 –Margaret Irwin-Brandon (1848 Stevens/1st Church, Belfast) OHS 92
ALEXANDRE GUILMANT (arr. Cornils): Finale, fr Organ Symphony No. 1 in D, Op. 42 –Kotzschmar Festival Brass/Peter Richard Conte, conductor; Ray Cornils (r. 9/27/14)
Hour 2
SIGFRID KARG–ELERT: Praise the Lord with Drums and Cymbals –Kotzschmar Festival Brass/Peter Richard Conte, director; Ray Cornils (r. 9/27/14)
ROBERT SCHUMANN: Fugue No. 1 on B-A-C-H –David Dahl (1863 Hook/Elm Street Congregational Church, Bucksport) OHS 92
CHARLES ALBERT STEBBINS: When dusk gathers deep. HAROLD STOVER: Stover's Rag (A Manhattan Nocturne) –Harold Stover (1928 Skinner/St. Luke's Cathedral, Portland) Albany 765
LUDWIG van BEETHOVEN: Scherzo & Allegro for Flute Clock. TRADITIONAL: Lord, Thou has searched me out (fr Kentucky Harmony) –Peter Sykes (1866 Hook; South Parish Congregational, Augusta). JOSEF KLICKA: Legends –Brian Franck (1860 Hook/St. John's Church, Bangor) OHS 92
JOSEPH BONNET: Matin Provençale –Thomas Murray (r. 2000). NIGEL OGDEN: Penguin's Playtime. HERMANN KOTZSCHMAR: Levithan March –Ray Cornils (r. 9/27/14)
The recently renovated Kotzschmar Organ was commissioned by businessman Cyrus H. K. Curtis to honor his former music teacher, Hermann Kotzschmar (1829-1908), who was a major force in the cultural life of Portland in the late 19th and early 20th centuries. Built in 1912 by Austin Organs of Hartford, Connecticut at Portland's Merrill Auditorium, the Kotzschmar Organ was the first 'municipal organ' in the United States, and one of only two still in regular use.
Thanks to recording engineer Gary Massey for providing today's audio from Merrill Auditorium.
Hear the Kotzschmar Organ live during Orgelfest 2015 summer concerts on Tuesday nights in August, sponsored by the Friends of the Kotzschmar Organ. Thursday night concerts on the Bangor Hook organ, sponsored by the St. John's Organ Society, continue through the end of August. In either case, you are welcome! Listeners in Maine are encouraged to share their enthusiasm for organ music with others, and show appreciation of local Pipedreams broadcasts by contributing to Maine Public Broadcasting!
Several compact discs featuring the Kotzschmar Memorial Organ are available through the Organ Historical Society online catalog, and other sources:
Kotzschmar Concerts 1998
Kotzschmar Concerts 1999
Kotzschmar Concerts 2000
The Mighty Kotzschmar – Ray Cornils performs
Thomas Murray plays Lemare
Lemare Affair II – Fred Hohman performs
Lemare Affair III – Fred Hohman performs
Krazy 'bout Kotzschmar! – Thomas Heywood performs