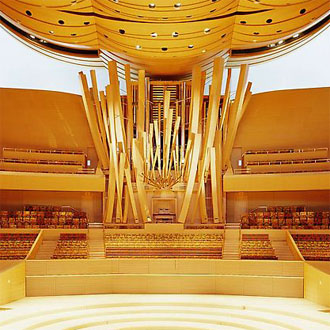 2004 Glatter-Götz/Rosales at Walt Disney Concert Hall
Happy Birthday, Hurricane Mama!
…eight superb soloists celebrate the 10th anniversary of the iconic Glatter-Götz/Rosales pipe organ at Walt Disney Concert Hall in Los Angeles.
Listen to the program
1 hr 58 Min
59:00 Min
59:00 Min
Program Broadcast dates:
Links and Resources:
Music played in the program
Hour 1
PYOTR TCHAIKOVSKY: Marche Characteristique, fr Nutcracker Ballet –Wayne Foster & Namhee Hann
PADRE ANTONIO SOLER (ed. Biggs): Fanfare in D –Wayne Foster (Sable Arms Production 2012)
J. S. BACH (trans. Reger): Chromatic Fantasy and Fugue in d, BWV 903 –Ken Cowan
SEARLE WRIGHT: Lyric Rhapsody. ROBERT HEBBLE: Heraldings –Frederick Swann
DESTO d'ANTALFFY-ZSIROSS: Sportive Fauns. CLARENCE MADER: Afternoon of a Toad –Cherry Rhodes
Filler – BACH BWV 903 (see above)
Hour 2
BACH: Prelude in a, BWV 543 –Christoph Bull (Bull Run Music 00706)
TCHAIKOVSKY: Scherzo, fr Symphony No. 4 in f, Op. 36 –Josh Perschbacher, via MIDI (Intent Records 2013)
MAURICE RAVEL (trans. Hielscher): Bolero –Chelsea Chen and Christoph Bull
CAROL WILLIAMS: Three Pieces (Venus Toccata; Walk on the Wild Side; Freedom) –Carol Williams
AARON DAVID MILLER: Improvisation on Selected Themes –Aaron David Miller
CAMERON CARPENTER: A California Birthday Salute! –Cameron Carpenter
Filler – MADER (see above)
These performances were recorded on Sunday, November 23, 2014, and the sold-out event generated good coverage from reviewer Mark Swed in the Los Angeles Times and a commentary from Alex Ross in The New Yorker, too.
A collaborative project, built by the German firm headed by Caspar von Glatter-Götz with specification and tonal design by Los Angeles-based voicer Manuel Rosales, the Walt Disney Concert Hall pipe organ (IV+P/102s) has provoked comment from the moment of its unveiling. Terry Riley nicknamed the organ Hurricane Mama, but the architect for the Hall and designer of the organ's visual aspect, Frank Gehry, is claimed to have dubbed his conception 'French Fries'! Who could argue with either!
Since seeing…and hearing…is believing, we recommend a new video documentary about Hurricane Mama, recently released. Also, Jennifer A. Zobelein has written a book…A Forest of Pipes: the Story of the Walt Disney Concert Hall Organ…that documents the creation and installation of this remarkable instrument.
You can hear the inaugural public concert played on the Disney Hall organ by Frederick Swann ten years ago, and a pair of concertos from a preview performance presented by the American Guild of Organists a few months before the official unveiling.