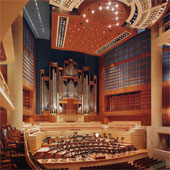 1992 Fisk at the Meyerson Symphony Center, Dallas, TX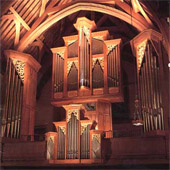 1979 C. B. Fisk at House of Hope Presbyterian Church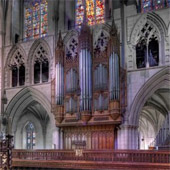 Skinner & Aeolian–Skinner at the Washington National Cathedral, District of Columbia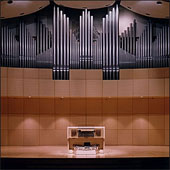 1997 Casavant at Central Michigan University, Mount Pleasant, MI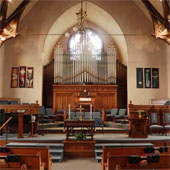 1889 Whalley – Genung at 1st Presbyterian Church, Port Townsend, WA
Getting Near
…the music and insights of a prominent American composer of organ and church music, Gerald Near.
Listen to the program
1 hr 58 Min
59:00 Min
59:00 Min
Program Broadcast dates:
Links and Resources:
Music played in the program
Hour 1
GERALD NEAR: Toccata –Mary Preston (1992 Fisk/Meyerson Symphony Center, Dallas, TX) Pipedreams Archive (r. 7/1997)
NEAR: A Triptych of Fugues –Aaron David Miller, organist. NEAR: Three Anthems (To Thee, o Lord, have I lifted up my soul; They that wait upon the Lord; Sing Alleluia) –House of Hope Motet Choir/Matthew Culloton, director; Aaron David Miller (1979 C. B. Fisk/House of Hope Presbyterian Church) Pipedreams Archive (r. 4/29/12)
NEAR: Carillon on a Ukrainian Bell Carol –Larry Visser (1996 Austin-Allen/LaGrave Avenue Christian Reformed Church, Grand Rapids, MI) LaGrave 2013
NEAR: Sonata No. 1 for Organ –Jeremy Filsell (Skinner & Aeolian-Skinner/Washington National Cathedral, District of Columbia) Raven 942
Hour 2
NEAR: 3 Chorale-preludes (Liebster Jesu; Freu dich sehr; Nun danket alle Gott) –Steven Egler (1997 Casavant/Central Michigan University, Mount Pleasant, MI) Prestant 1011
NEAR: 2 Chorale-preludes (Veni Emmanuel; A solis ortus cardine) –Elwood Bernas (1889 Whalley & Genung/1st Presbyterian Church, Port Townsend, WA) FPCPT 2006
NEAR: Suite in Classic Style –Cheryl Gobbetti Hoffman, flute; Bruce Neswick (1988 Wilhelm/St. Alban's School, Washington, DC) Raven 840
NEAR: Air with Variations, fr Sonata Breve –Pamela Decker (1987 Kney/University of St. Thomas, St. Paul, MN) Pipedreams Archive (r. 10/27/08)
NEAR: St. Mark's Service (Magnificat & Nunc dimittis) –Llandaff Cathedral Choir/Michael Smith, director; Michael Hoeg (1937 Norman & Beard/Llandaff Cathedral, Wales) Priory 551
NEAR: Choraleworks, Set I (Westminster Abbey; Moscow; Nun komm, der Heiden Heiland; Erhalt uns, Herr; O Welt, ich muss dich lassen; Mit Freuden zart; Herzliebster Jesu; In dulci jubilo; Salzburg) –Steven Egler (1997 Casavant/Central Michigan University) White Pine 203
Composer
Gerald Near converses with Michael Barone" --> during a presentation at House of Hope Presbyterian Church in Saint Paul, MN. Near talks about his musical beginnings, the transition from 'playing by ear' to composing, text setting, using a computer, and the creation of a new choral score commissioned by the church.
Listen online to the
premiere performance" --> of this new score by Gerald Near for Choir, Strings and Piano: Serenade on Poems by Robert Herrick. Enjoy the music more fully by following the individual movement'stexts here:
To Music
Thanksgiving to God for His House
The Funeral Rites of the Rose
Gather ye rosebuds
A carol
The premiere performance of Near's well-loved anthem "Sing Alleluia Forth" was presented in an early PIPEDREAMS program (#8438), as was his 1998 Organ Concerto, commissioned for an AGO Convention in Denver (#9846).