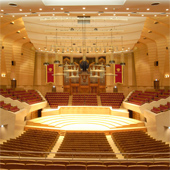 1986 Rieger at Suntory Hall, Tokyo, Japan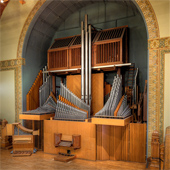 1950 Holtkamp at Setnor Auditorium, Crouse College, Syracuse University, NY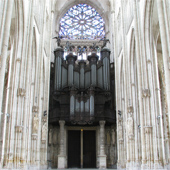 1890 Cavaillé-Coll at St. Ouen Abbey, Rouen, France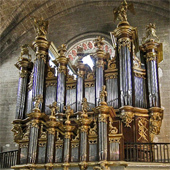 1742 Moucherel at Nativity of the Blessed Virgin Church, Cintegabelle, France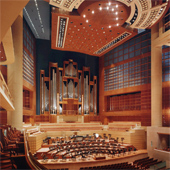 1995 Fisk at the Meyerson Symphony Center, Dallas, TX
Some Anniversaries
…a selective collection of organ works by composers with significant birthdays observed during this year.
Listen to the program
1 hr 58 Min
59:00 Min
59:00 Min
Program Broadcast dates:
Links and Resources:
Music played in the program
Hour 1
RICHARD STRAUSS: Festliches Präludium for Organ and Orchestra, Op. 61 –Philadelphia Orchestra/Wolfgang Sawallisch, conductor; Michael Stairs (1986 Rieger/Suntory Hall, Tokyo, Japan) EMI Classics 55185
FRANZ TUNDER: In dich hab ich gehoffet, Herr –Christopher Marks (1950 Holtkamp/Setnor Auditorium, Crouse College, Syracuse University, NY) Raven 790.
TUNDER: Praeludium in G –Pamela Ruiter-Feenstra (2001 GoArt North German Organ/Örgryte nya kyrka, Göteborg, Sweden) Loft 1048/9
THOMAS ATTWOOD WALMISLEY: Evening Service in d –Choir of St. Paul's Cathedral/John Scott, director; Christopher Dearnley (Willis-Mander/St. Paul's Cathedral, London, England) Hyperion 66249
GUY ROPARTZ: Three Pieces (Sur un theme Breton; Intermede; Fugue in e) –Jean-Pierre Lecaudey (1890 Cavaillé-Coll/St. Ouen Abbey, Rouen, France) Pavane 7393/4
Hour 2
GIACOMO MEYERBEER: Coronation March, fr Le Prophete –Huw Williams (Willis-Mander/St. Paul's Cathedral, London) Guild 7304
RONALD HANMER: Stephen Foster Fantasy –Simon Gledhill (Wurlitzer/Castro Theater, San Francisco, CA) Pipedreams Archive (r. 1991)
OTTO OLSSON: Prelude & Fugue in f#, Op. 52 –Hans Fagius (1976 Åkerman & Lund/Katarina Church, Stockholm, Sweden) BIS 191
OTTO OLSSON: Romance for Flute and Organ, Op. 24 –Gunilla von Bahr, flute; Hans Fagius (1975 Christensen/Härnösand Cathedral, Sweden) BIS 160
JEAN-PHILIPPE RAMEAU (trans. Rechsteiner): Airs and Dances from the Operas –Yves Rechsteiner (1742 Moucherel/Nativity of the Blessed Virgin Church, Cintegabelle, France) Alpha 650
RICHARD STRAUSS: Festival Intrada –Dallas Wind Symphony/Jerry Junkin, director; Mary Preston (1995 Fisk/Meyerson Symphony Center, Dallas, TX) Reference 112
The centennials of the births of Tunder (400th) and Walmisley (200th), the sesquicentennials of the births of Strauss (150th) and Ropartz (150th) and of the deaths of Rameau (250th), Meyerbeer and Foster (150th) and Olsson (50th) are all observed in 2014.
Previous PIPEDREAMS programs this year featured the music of two illustrious tri-centenarians:
Gottfried August Homilius (1714-1785)
Carl Philipp Emanuel Bach (1714-1788)
For those who are enchanted by (and curious about) the transcriptions from operatic music by Jean-Philippe Rameau (organ arrangements of music by the greatest composer of his age…who wrote nothing specifically for the organ!), check out this video with explanations by transcriber/performer Yves Rechsteiner, Le Chant du Monde publisher Hervé Désarbre, and Alpha label recording producer Jean-Paul Combet, as well as this link to the three published volumes of Rameau's "Livre d'orgue" (which is available with English annotations).