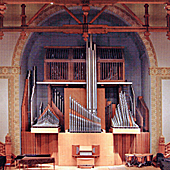 1950 Holtkamp organ in Crouse College, Syracuse University, Syracuse, NY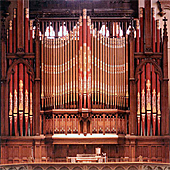 1892 Roosevelt; 1980 Schantz organ in the Cathedral of the Immaculate Conception, Syracuse, NY.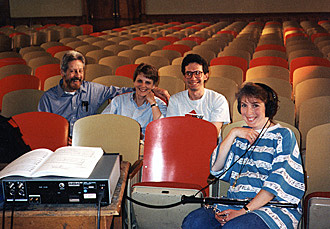 (left to right) Organists Will Headlee, Katherine Pardee, and David Enos with oboist Anita Pawlak. Photo - Michael Barone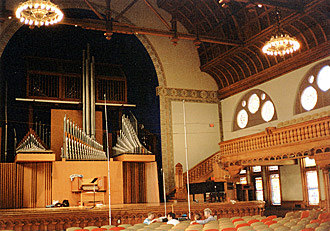 On location in 1995 at Crouse Auditorium to record the 1950 Holtkamp organ. Photo - Michael Barone
A Syracuse Organ Book
…on four instruments in a picturesque New York university town, we explore a collection of creative contemporary compositions in anticipation of an upcoming Organ Historical Society convention.
Listen to the program
1 hr 58 Min
59:00 Min
59:00 Min
Program Broadcast dates:
Links and Resources:
Music played in the program
Hour 1
ROBERT PAOLI: Three Pieces for Organ (2 Preludes and a Processional) –Will Headlee (1952 Holtkamp/Hendricks Chapel)
DON FREUDENBURG: Preludes on So nimm denn meine Hände. BRUCE LAZARUS: Meditation –Will Headlee (1892 Roosevelt/1980 Schantz/Cathedral of the Immaculate Conception)
THOMAS DONAHUE: Fanfare March –Will Headlee (1950 Holtkamp/Setnor Auditorium, Crouse College)
DAVID N. JOHNSON: Fugue a la Gigue –Christopher Marks (Crouse) Raven 790
JANET M. CORRELL: Homage to Persichetti –David Enos (1855 Johnson/Westminster Presbyterian Church)
ROBIN DINDA: Melody (#1), Meditation (#4), and Finale (#5), fr 5 Pieces in Contemporary Notation –Katherine Pardee (Crouse)
Filler – PAOLI: Procession (see above)
Hour 2
J. S. BACH: Fugue in E-flat, BWV 552 –Arthur Poister (Crouse; r. 8/26/67) Syracuse SUR 1012
JEHAN ALAIN: 2 Dances of Agni Yavishta –Andre Marchal (Crouse) Westminster WST 14130
MARCEL DUPRÉ: Les Cloches de Perros–Guirac, fr Suite Bretonne, Op. 21 –Christopher Marks (Crouse) Raven 790
FLOR PEETERS: Toccata, Fugue & Hymn on Ave Maris Stella, Op. 28 –Adam Pajan (Crouse) Pipedreams Archive (r. 9/25/11).  Pajan was winner of the 2011 Arthur Poister Competition.
CARL KLEIN: Prelude & Chorale on Abbot's Leigh –Katherine Pardee (Hendricks)
DIANE WITUSZYNSKI–DEPTOLA: Fantasia on Picardy for Oboe and Organ –Anita Pawlak, oboe; David Enos (Crouse)
ALFRED HOOSE: A Pondering on "Deck thyself, my soul" –Will Headlee (Cathedral)
DAVID N. JOHNSON: Voluntary in D-flat –Kathrine Pardee (Crouse)
Filler – LAZARUS: Meditation (see above)
This is an ENCORE broadcast of Program #0703, originally aired in January 2007. Michael Barone recorded Will Headlee, David Enos and Katharine Pardee in May 1995 in works from The Syracuse Collection, issued by Wayne Leupold Editions. Though the volume is currently out-of-print, the Mr. Leupold promises that if he receives a sufficient number of inquiries, he will republish the book. You know what to do!
The instruments featured here, and many others of interest, will be highlighted during the upcoming Organ Historical Society National Convention, August 10-15, 2014, to which you are invited! Select one day, or attend it all.  Michael Barone will be there, will you?
Christopher Marks recorded for Raven Records (CD-790). Performances by Arthur Poister and André Marchal were drawn from the Syracuse University audio archives.
Watch Katharine Pardee play Reger's Fugue in d, Op. 135b on the Holtkamp organ at Crouse College and explore her further performances on Pro Organo CD 7082.