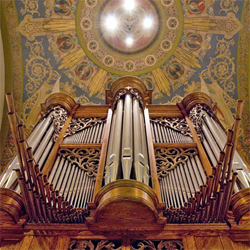 1987 Kney organ at the University of Saint Thomas, St. Paul, MN
Kney Sayers
…positive returns from the numerous soloists who have presented concerts on the instrument Gabriel Kney built for the University of St. Thomas in Saint Paul, MN.
Listen to the program
1 hr 58 Min
59:00 Min
59:00 Min
Program Broadcast dates:
Additional Audio
on this instrument, performed by Hans Fagius in 1987, as featured on Pipedreams Program 8902
Links and Resources:
Music played in the program
Hour 1
J. S. BACH: Piece d'Orgue (Fantasy) in G, BWV 572 —Hans Fagius (r. 11/6/07)
G. F. HANDEL: Concerto in F, Op. 4, no. 5 —John Scott (r. 4/14/08)
ALEXANDRE BOëLY: Andante in b; Toccata in b, Op. 43, no. 13 —Michel Bouvard (r. 3/17/13)
JEAN-LOUIS FLORENTZ: La Croix du Sud (USA premiere) —Olivier Latry (r. 4/15/02)
MARCEL DUPRé: The World Awaiting the Savior, fr Symphonie-Passion, Op. 23 —Thierry Escaich (r. 4/17/07)
Hour 2
HERBERT HOWELLS: Magnificat, fr St. Paul's Service –Choir of Claire College, Cambridge/Tim Brown, director; Ashok Gupta, organist (r. 9/25/10)
JAMES CALLAHAN: 2 Pieces on Gregorian Themes (Veni, veni Emmanuel; Veni Creator Spiritus) –James Callahan (r. 9/19/05)
JESPER MADSEN: Praetorius Variations –István Rupert (r. 10/25/04)
SIGFRID KARG-ELERT: Valse Mignonne, Op. 142, no. 2 –Ahreum Han (r. 3/3/13)
PETR EBEN: A Festive Voluntary (Variations on Good King Wenceslas) –Hyeon Jeong (r. 6/16/03)
RACHEL LAURIN: Epilogue, Op. 50 –Rachel Laurin (r. 11/9/09)
All performances feature the three-manual, 56-rank tracker-action organ built in 1986 by Gabriel Kney for the University's acoustically supportive St. Thomas Aquinas Chapel.
In connection with the recent broadcast of "The Winds of Aeolus", most Aeolus-Music compact discs will be on sale for a limited time (until December 10) through their USA distributor. Also, all single JAV Recordings will be on sale during that same time period. To access individual Aeolus items, click the CD number in the playlist above.