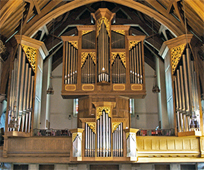 1979 Fisk at House of Hope Presbyterian Church, Saint Paul, MN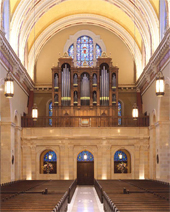 2003 Pasi at St. Cecilia Cathedral, Omaha, NE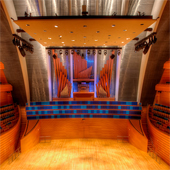 2011 Casavant at Helzberg Hall, Kansas City, MO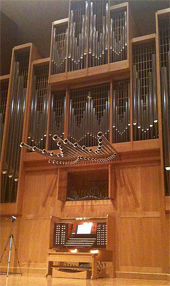 1986 Marcussen at Wiedemann Hall, Wichita State University, Wichita, KS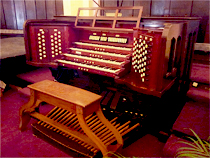 1912 Skinner at Grand Avenue United Methodist Temple, Kansas City, MO
On Middle Ground
…from Minnesota down to Louisiana, the King of Instruments has many exemplary representatives in the central segment of our United States.
Listen to the program
1 hr 58 Min
59:00 Min
59:00 Min
Program Broadcast dates:
Links and Resources:
Music played in the program
Hour 1
AARON DAVID MILLER: Improvisation on St. Anne –Aaron David Miller (1979 Fisk/House of Hope Presbyterian Church, Saint Paul, MN) Pipedreams Archive (r. 3/18/12)
J. S. BACH: Prelude Concertato in E, BWV 566 –George Ritchie (2003 Pasi/St. Cecilia Cathedral, Omaha, NE) Raven 740
FRANK BRIDGE: Adagio in E. THIERRY ESCAICH: Evocation II –Caroline Robinson (2011 Casavant/Helzberg Hall, Kansas City, MO) Pipedreams Archive (r. 4/10/13)
R. NATHANIEL DETT (arr. Callahan): Adagio Cantabile, fr Cinnamon Grove Suite –Charles Callahan (1953 Aeolian–Skinner/1st Baptist Church, Nacogdoches, TX) Pipedreams Archive (r. 11/15/12)
NED ROREM: Selections, fr Views from the Oldest House (Spires; Rain over the Quaker graveyard; Sunday night) –Catharine Crozier (1986 Marcussen/Wiedemann Hall, Wichita State University, Wichita, KS) Delos 3076
GERRE HANCOCK: Toccata –Christopher Jennings (1949 Aeolian–Skinner/1st Presbyterian Church, Kilgore, TX) Pipedreams Archive (r. 11/15/12)
Hour 2
CHARLES CALLAHAN: Lauda Sion, fr Gregorian Suite –Charles Callahan (1952 Aeolian–Skinner/St. Luke's United Methodist Church, Kilgore, TX) Pipedreams Archive (r. 11/14/12)
JOHN COOK: Scherzo, Dance and Reflection. HEALEY WILLAN: Fugue, fr Introduction, Passacaglia & Fugue –William Teague (1959 Aeolian–Skinner/St. Mark's Cathedral, Shreveport, LA) Raven 800
PIETRO YON: Speranza. HARRY ROWE SHELLEY: Scherzo–Mosaic (Dragonflies) –Frederick Hohman (1912 Skinner/Grand Avenue United Methodist Temple, Kansas City, MO) Pro Organo 7042
LEO SOWERBY: Arioso –Lorenz Maycher (1962 Aeolian–Skinner/St Mark's Episcopal Church, Beaumont, TX) Vermont Organ Academy 004
REGINALD DE KOVEN: Recessional (on text by Kipling) –David Ford, bass. JOHN LONGHURST: Cantilena. RICHARD ELLIOTT (arr.): Every time I feel the spirit –Richard Elliott (1951 Aeolian–Skinner/1st Baptist Church, Longview, TX) Pipedreams Archive (r. 11/13/12)
Aaron David Miller appears at the Kauffman Center's Helzberg Hall in Kansas City, MO on October 31, 2013, part of the Kansas City Symphony Organ Series.
On November 1, Richard Elliott celebrates the 10th anniversary of the Blackinton pipe organ at Bethel University in Saint Paul, MN.
Lorenz Maycher and friends celebrated Aeolian-Skinner organs with another East Texas Organ Festival, November 10-14, 2013 in Kilgore, Longview, Nacogdoches, and Shreveport.
And American composer Ned Rorem celebrates his 90th birthday on October 23, 2013 (b. 1923). Additional programs of Rorem's music, with the composer's comments, are available in the PIPEDREAMS Programs Archive.
Additional programs of Rorem's music
#0841 Rorem on Rorem
#9629 A Tribute to Ned Rorem
#8602 View from the Oldest House (premiere)
#8637 Catharine Crozier plays "Quaker Reader"