Juilliard Students after Pipedreams Live!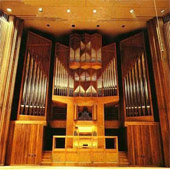 1974 Kuhn organ at Alice Tully Hall
A Juilliard Student Showcase
…members of the Juilliard School organ studio of Paul Jacobs present a Pipedreams Live! concert at Alice Tully Hall.
Listen to the program
1 hr 58 Min
59:00 Min
59:00 Min
Program Broadcast dates:
Week of September 23, 2013
Links and Resources:
Music played in the program
Hour 1
BEDRICH SMETANA (trans. Hey): The Bartered Bride Overture –Michael Hey, organ
J.S. BACH: Prelude &amp Fugue in a, BWV 543 –David Ball, organ
RACHEL LAURIN: Fantasia for Organ and Harp, Op. 52 –Gwenllian Llyr, harp; Benjamin Sheen, organ
TOMASO ANTONIO VITALI (arr. J. Yieh): Chaccone for Violin and Organ –Eric Silberger, violin; Janet Yieh, organ
PAUL HINDEMITH: Organ Sonata No. 3 –Raymond Nagem, organ
Hour 2
JOSEPH RUBINSTEIN: Fugal Episodes –Benjamin Sheen (r. 10/23/12 at Paul Hall)
JOHN WEAVER: Fantasy on Sine Nomine –Colin MacKnight, organ
PIERRE COCHEREAU: Bolero for Organ and Percussion –Charles Rosmarin, percussion; Gregory Zelek, organ
JOHANN LUDWIG KREBS: Fantasia in f for Organ and Oboe; Chorale-prelude, Wachet auf for Organ and Trumpet –Harrison Linsey, oboe; Mikio Sasaki, trumpet; Griffin McMahon, organ
HENRY MARTIN: Prelude & Fugue No. 2 in e; Prelude and Fugue No. 1 in G –David Crean, organ
RICHARD WAGNER: Ride of the Valkyries –Benjamin Sheen & Michael Hey, organists
These performances were recorded on January 22, 2013. The featured instrument, a Swiss–built 1974 Kuhn mechanical–action organ of 85 ranks, was re–inaugurated in November 2010 following the hall's renovation. It remains the only classical pipe organ in a public concert hall in New York City. You can hear its re–inauguration concert, played by Paul Jacobs, on PIPEDREAMS Program No. 1112, Bach in the Big Apple.
During the academic term, students of Paul Jacobs engage in performance and discussion during a weekly two–hour Organ Class (Thursdays from 11AM-1PM) featuring the 57–rank Holtkamp organ in the school's Paul Hall. The public is invited to attend as 'observers'…free!
We offer special thanks to Juilliard President Joseph W. Polisi and audio engineer Robert Taibbi, whose helpful cooperation and good work made this program possible.