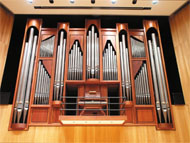 1990 Fisk organ at Lippes Concert Hall, SUNY-Buffalo, NY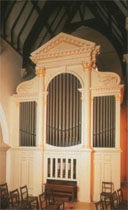 1881 Hunter-1991 Daniel organ at Brentwood Cathedral, England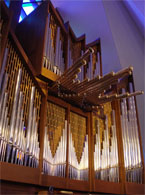 1987 Marcussen organ at First United Methodist Church, Fort Collins, CO.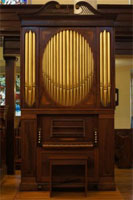 1790 England organ at Holy Trinity Cathedral, Quebec City, Canada.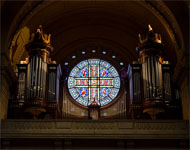 1963 Aeolian–Skinner organ at the Cathedral of St. Paul, MN.
Organ and Friends
…having a great time up in the organ loft, with clarinet, trombone, cello, and brass ensemble.
Program Broadcast dates:
Week of July 29, 2013

Listen to the program
1 hr 58 min
59:00
59:00

Links and Resources:
Music played in the program
Hour 1
SHARON WILLIS: Vocalise for Trumpet and Organ –David Kuehn, trumpet; Calvert Johnson (2003 Rosales/St.Bartholomew's Episcopal Church, Atlanta, GA) Fleur de Son 57997
SY BRANDON: Meditation & Festive Celebration for Clarinet and Organ –Andrew Siegel, clarinet; Ji Hyun Woo (1990 Fisk/Lippes Concert Hall, SUNY-Buffalo, NY) Emeritus 20113
KARL HÖLLER: Improvisation on Schönster Herr Jesu for Cello and Organ, Op. 55 –Donald Moline, cello; Randall Swanson (1983 Casavant/St. Clement's Church, Chicago, IL) Dorian Discovery 80148
JOHN GARDNER: Sonata Secolare, Op. 117 –Cosmopolitan Brass/Chris Gardner, conductor; Stephen King (1881 Hunter-1991 Daniel/Brentwood Cathedral, England) Toccata Classics 0048
Hour 2
G. P. TELEMANN: Trio Sonata in e –Hye Sung Choe, flute; Jeffrey Stephenson, oboe; Johannes Müller Stasch (1967 Casavant/12 Corners Presbyterian Church, Rochester, NY) Mark Custom 6410
KURT WIKLANDER: Fantasia for Cello and Organ, Op. 5 –Barbara Thiem, cello; Robert Cavarra (1987 Marcussen/First United Methodist Church, Fort Collins, CO) SGC 4002
GUSTAV HOLST: Duo Concertante for Trombone and Organ –Niels-Ole Bo Johansen, trombone; Ulrik Spang-Hanssen (1989 Oberlinger/Mariae Namen Kirche, Hanau, Germany) Classico 122
J. S. BACH: Sonata in G, BWV 1027 –Mary-Kathryn Stephens, viola; Benjamin Waterhouse (1790 England/Holy Trinity Cathedral, Quebec City, Canada) Desjardins 20
JAMES BIERY: Elegy –Michal Sobieski, violin; James Biery (1963 Aeolian-Skinner/Cathedral of Saint Paul, St. Paul, MN) Biery 2008
ALEXANDRE GUILMANT: Final alla Schumann, Op. 83 –Philharmonic Ingolstadt/Olaf Koch, conductor; Franz Hauk (1977 Klais/Ingolstadt Cathedral) Guild 7215