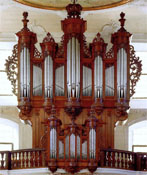 1761 J.A. Silbermann organ at Arlesheim Cathedral, Switzerland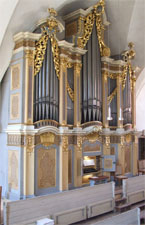 1735 G. Silbermann organ at St. Petri Church, Freiberg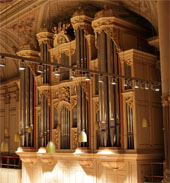 1988 Kleuker-Steinmeyer organ at the Tonhalle in Zürich, Switzerland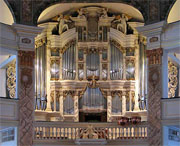 1741 Trost organ at the Stadtkirche in Waltershausen, Germany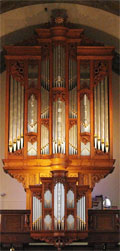 1985 Taylor & Boody organ at the College of the Holy Cross in Worcester, MA
Bach Looks Back
…during his later Leipzig years, Bach revised and prepared a diverse collection of chorale preludes that were his final testament in this format.
Program Broadcast date:
Week of July 22, 2013
Listen to the program
1 hr 58 Min
59:00 Min
59:00 Min
Links and Resources:
Music played in the program
Hour 1
J. S. BACH: Fantasia, Komm heiliger Geist, BWV 651 –Ulrich Böhme (2000 Woehl/St. Thomas Church, Leipzig) Rondeau 6050/51
An Wasserflüssen Babylon, BWV 653 –Ewald Kooiman (1778 J-A Silbermann/Protestant Church, Bouxwiller) Aeolus 10841
Herr Jesu Christ, dch zu uns wend', BWV 655 –Lionel Rogg (1768 J-A Silbermann/Arlesheim Cathedral) Harmonia Mundi 290778
O Lamm Gottes, unschuldig, BWV 656 –Gerhard Weinberger (1735 G. Silbermann/St. Petri Church, Freiberg) cpo 999 664
Schmücke dich, o liebe Seele, BWV 654 –Joan Lippincott (1976 Flentrop/Duke University Chapel, Durham, NC) Gothic 49099
Nun danket alle Gott, BWV 657 –Helmut Walcha (1780 J-A Silbermann-1950 Muhleisen/St. Pierre-le-Jeune, Strasbourg) Archiv 419 904-10
Nun komm, der Heiden Heiland (3 settings) –Bernard Foccroulle BWV 659 (1714 G. Silbermann/Freiberg Cathedral) Ricercar212; Jacques van Oortmerssen, BWV 660 (1734 Müller/Waalse Kerk, Amsterdam) Challenge Classics 72096; Walter Kraft, BWV 661 (1782 Stumm/Amorbach Abbey) Musical Concepts 191-11
Hour 2
Von Gott will ich nicht lassen, BWV 658a –Jean Guillou (1988 Kleuker-Steinmeyer/Tonhalle, Zurich) Dorian 90151
Komm, heiliger Geist, Herre Gott, BWV 652 –Antoine Bouchard (1961 Beckerath/Immaculate Conception Church, Montreal) REM 311130
Allein Gott in der Höh' (3 settings) –Marie-Claire Alain, BWV 662 (1740 Schnitger/Martinikerk, Groningen) Erato 96718; Hans Fagius, BWV 663 (1982 Magnassun/Kristine Church, Falun, Sweden) BIS 235/6; Pierre Bardon, BWV 664 (1774 Isnard/St. Maximin Basilica) Syrius 141370
Jesus Christus, unser Heiland, BWV 665/666 –Cristina Garcia Banegas (1741 Trost/Stadtkirche Waltershausen) Motette 12391
Komm, Gott Schöpfer, heiliger Geist, BWV 667 –Wolfgang Rübsam (1985 Taylor & Boody/Holy Cross College, Worcester, MA) Naxos 8.550927
Vor deinen Thron tret' ich hiermit, BWV 668 –Almut Rössler (2000 Woehl/St. Thomas Church, Leipzig) Motette 13151
In addition to various online resources, Russell Stinson provides a comprehensive look at "Johann Sebastian Bach's Great Eighteen Organ Chorales", his excellent book available from Oxford University Press.