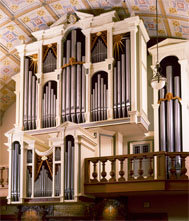 1991 Fisk organ at Palmer Memorial Episcopal Church, Houston, Texas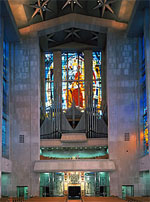 1962 Austin organ at Cathedral of St. Joseph, Hartford, Connecticut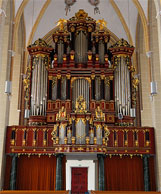 1643 Bader-1814 Timpe-1996 Reil organ at St. Walburg Church, Zutphen, The Netherlands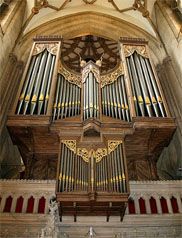 1974 Harrison organ at Wells Cathedral, England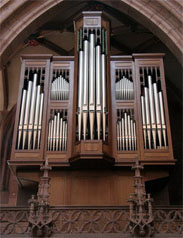 1964 Rieger organ at Freiburg Cathedral, Germany
Let the Round Earth Rejoice
…with hymns, chorales, chants and organ solos, we reflect on spring's rebirth at Easter.
Listen to the program
1 hr 58 Min
59:00 Min
59:00 Min
Program Broadcast dates:
Links and Resources:
Music played in the program
Hour 1
ROBERT WILLIAMS: Jesus Christ is Risen Today –Palmer Memorial Choir & Brass/Brady Knapp, director/Ann Frohbeiter (1991 Fisk/Palmer Memorial Episcopal Church, Houston, TX) Palmer Church 2003
FLOR PEETERS: Symphonic Fantasy on an Easter Plainsong, Op. 13 –Peter Van de Velde (1891 Schyven/Our Lady's Cathedral, Antwerp, Belgium) Aeolus 10711
ANTON HEILLER: Ecce lignum crucis –Klemens Schnorr (1964 Rieger chancel organ/Freiburg Cathedral, Germany) Motette 13236
GERALD NEAR: 4 Hymn Preludes (Immortal, invisible; Vater unser im Himmelreich; O Traurigkeit; Christ ist erstanden) –Steven Egler (1997 Casavant/Central Michigan University, Mount Pleasant, MI) White Pine 203
GERRE HANCOCK: The Saviour Redeems the World (improvisation on Ubi caritas and Vexilla Regis prodeunt) –Gerre Hancock (1962 Austin/Cathedral of St. Joseph, Hartford, CT) Pro Organo 7233
Enjoy a DVD video of Dr. Hancock's improvisation here!
LILI BOULANGER: Pie Jesu –Magali Léger, soprano; Carolyn Shuster Fournier (1894 Cavaillé-Coll/Church of St. Antoine, Paris) Ligia Digital 0109206.09
JAMES MacMILLAN: Christus vincit –Westminster Cathedral Choir/Martin Baker, conductor; David de Winter, treble (Westminster Cathedral, London) Hyperion 67219
Hour 2
JOHANN MICHAEL BACH: Jesus Christus, unser Heiland –Michael Harris (1724 Schröter/St.Peter's Church, Wandersleben) Priory 1001
GEORG BÖHM: 2 Chorale-preludes on Christ lag in Todesbanden –Friedhelm Flamme (1735 Creutzburg/St. Cyriakus Church, Duderstadt, Germany) cpo 777.501
JEAN TITELOUZE: Exultet coelom –Les Chantres du Roy; Yves-G. Préfontaine (1699 Tribout/Church of St. Martin de Seurre, Cote d'Or, France) Atma 2558
JOHANN LUDWIG KREBS: Heut triumphieret Gottes Sohn –Felix Friedrich (1739 Trost/St. Wenzel Church, Naumburg) Querstand 0203
BERT MATTER: Partita, Ich ruf zu dir –Johan Luimes (1643 Bader-1814 Timpe-1996 Reil/St. Walburg Church, Zutphen, The Netherlands) Walburga Musica 2507
HELMUT WALCHA: 3 Chorale-preludes (O armer Sünder; Jesu, deine Passion; Christ ist erstanden) –Wolfgang Rübsam (2004 Brombaugh/First Presbyterian Church, Springfield, IL) Naxos 8.572911
TORSTEN NILSSON: 3 Chorales on texts by Anders Frostenson, Op. 44 –Mona Julsrud, soprano; Bjørn Kåre Moe (1949 Marcussen/Oscar's Church, Stockholm, Sweden) BIS 924
G.F. HANDEL: Worthy is the Lamb – Amen, fr Messiah –Wells Cathedral Choir and School Chamber Orchestra/Matthew Owens, conductor; Jonathan Waughan (1974 Harrison/Wells Cathedral, England) Regent 343
Add to your springtime Easter bouquet with this remarkable presentation (aural and visual) by organist Aaron David Miller…"A Flower Opens"
Related Programs:
Prayers and Alleluias (#1214)
Music for Eastertide (#1013)
This Joyful Eastertide (#0914)
From Palms to Passiontide (#0913)
Arising to the Day (#0714)
Easter Uprising (#0615)