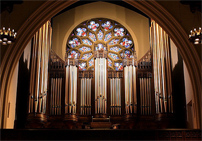 2009 Schoenstein organ at St. James Episcopal Church, NYC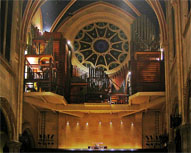 1932 Aeolian-Skinner organ at Church of Saint Mary the Virgin, NYC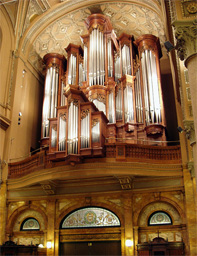 1992 Mander organ at St. Ignatius Loyola Church, NYC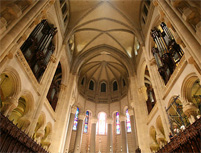 1953 Aeolian-Skinner organ at Cathedral of St. John the Divine, NYC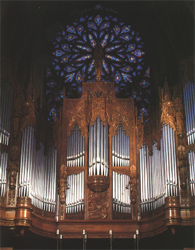 1930 Kilgen at St. Patrick's Cathedral, NYC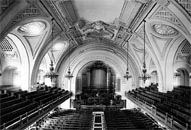 1903 Hutchings-Votey organ at the former First Church of Christ, Scientist, NYC
In the Big Apple
…great instruments and great music can be found in abundance in America's greatest city!
Listen to the program
1 hr 58 Min
59:00 Min
59:00 Min
Program Broadcast dates:
Links and Resources:
Music played in the program
Hour 1
ALEC WYTON: Fanfare –Christopher Jennings (2009 Schoenstein/St. James Episcopal Church, NYC) Jennings 2012
CESAR FRANCK: Choral No. 3 in a –David Enlow (1932 Aeolian-Skinner/Church of Saint Mary the Virgin, NYC) Pro Organo 7247
LOUIS VIERNE: Madrigal, Op. 31, no. 9. VIERNE: Sanctus-Benedictus, fr Messe Solennelle, Op. 16 –St. Thomas Choir & Brass/John Scott, director; Jeremy Bruns & John Scott (Aeolian-Skinner/Saint Thomas Church, NYC) Pro Organo 7244
JOE UTTERBACK: Spiritual Preludium, There is a balm in Gilead –Andrew Shenton (1992 Mander/St. Ignatius Loyola Church, NYC) JazzMuse 2002
SIGFRID KARG-ELERT: Fugue, Canzona & Epilogue, Op. 85, no. 3 –Lisa Shihoten, violin; Anna Lenti & Madeline Apple Healy, sopranos; Mary Ann Hewlett, mezzo-soprano; Elizabeth Hermanson, alto; Paulo Bordignon, conductor; Ken Cowan (1953 Aeolian-Skinner/Cathedral of St. John the Divine, NYC) Pro Organo 7253
TRADITIONAL (arr. Vaughan Williams): Hymn, All creatures of our God and King –Stephen Tharp (2001 Austin/Grace Church Episcopal, Brooklyn Heights) JAV 5163
Hour 2
SERGEI PROKOFIEV: March, fr The Love for Three Oranges, Op. 33. EUGENE GIGOUT: Grand Choeur Dialogué –Daniel Brondel (1930 Kilgen/St. Patrick's Cathedral, NYC) JAV 189
DIETRICH BUXTEHUDE: Praeludium in a, BuxWV 152 –Robert Barrows (1967 Beckerath/St. Michael's Episcopal Church, NYC) GOONY 1996
JOHN WEAVER: Fantasia on Madrid ("Come, Christians, join to sing") –Madison Avenue Presbyterian Church Choir/John Weaver (1961 Casavant/Madison Avenue Presbyterian Church, NYC) JAV 157
GABRIEL PIERNÉ: Prelude, Op. 29, no. 1 –Keith Toth (1996 Guilbault-Therien/Brick Presbyterian Church Chapel, NYC) Ethereal 103
LEO SOWERBY: 2 Psalms (O be joyful in the Lord; Hear my cry, o God) –Gwendolyn Jones, mezzo-soprano; Bruce Baumer, bass; Lorenz Maycher & William Watkins (1903 Hutchings-Votey/First Church of Christ, Scientist, NYC) Pipedreams Archive (r. 7/8/1996)
SEARLE WRIGHT: Introduction, Passacaglia and Fugue –Frederick Swann (Aeolian-Skinner/Riverside Church, NYC) Pipedreams Archive (r. 7/10/1996)
Michael Barone
joins the American Guild of Organists New York City Chapter for their
Presidents' Day Conference
,
February 17 and 18, 2013
, with events at the Schwartz Athletic Center (former Paramount Theatre) in Brooklyn and at Manhattan's Riverside Church. The public is invited. Also check out the Chapter's elegant and comprehensive
website
, The New York City Organ Project, devoted to pipe organs past and present in the five boroughs of New York City.