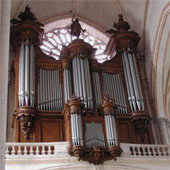 1790 F.H. Clicquot at St.Peter's Cathedral, Poitiers, France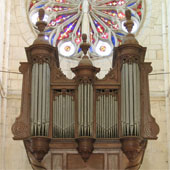 1739 L. A. Clicquot at Eglise Saint-Jacques et Saint-Christophe, Houdan, France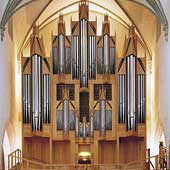 1998 Goll at St. Martin's Church, Memmingen, Germany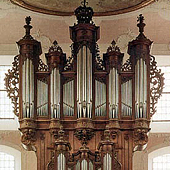 1761 J. A. Silbermann at Arlesheim Cathedral, Switzerland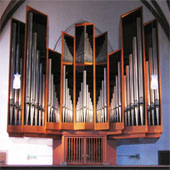 1961 Karl Schuke at Dreikönigskirche, Frankfurt, Germany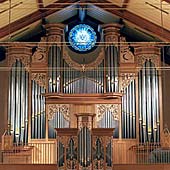 2000 Brombaugh at First Presbyterian Church, Springfield, IL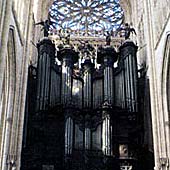 1890 Cavaillé-Coll at St. Ouen, Rouen, France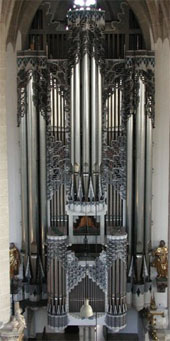 1975 Sandtner at EichstättCathedral, Germany
…a collection of seasonal melodies elaborated in the French and German traditions.
Listen to the program
1 hr 58 Min
59:00 Min
59:00 Min
Program Broadcast dates:
Links and Resources:
Music played in the program
Hour 1
LOUIS-CLAUDE DAQUIN: Noël No. 10 in G –Martin Haselböck (1790 F. H. Clicquot/St. Peter's Cathedral, Poitiers, France) Musica Viva 1980
TRADITIONAL (improvised): Motet, O salutaris hostia and Agnus Dei, fr Messe du jour de Noël –Ensemble Organum; Marcel Péres (1739 L.A. Clicquot/Eglise Saint-Jacques et Saint-Christophe, Houdan, France) Harmonia Mundi 901480
CESAR FRANCK: Pieces in G 'Pour le temps de Noël', fr L'Organiste –Hans-Eberhard Ross (1998 Goll/St. Martin's Church, Memmingen, Germany) Audite 21.413
MICHEL CORRETTE: Concerto Noël Allemand –Ludwig Güttler & Kurt Sandau, trumpets; Friedrich Kircheis, organ. Laserlight 154272
J. S. BACH: Christmas Chorales, fr Orgelbüchlein, BWV 603-609 (In dulci jubilo; Puer natus in Bethlehem; Gelobet seist du, Jesu Christ; Der Tag der ist so freudenreich; Vom Himmel hoch, da komm ich her; Vom Hiummel kam der Engel Schaar; Lobt Gott, ihr Christen allzugleich) –Bernhard Klapprott (1761 J. A. Silbermann/Arlesheim Cathedral, Switzerland) Aeolus 10761
Hour 2
FRANZ MURSCHHAUSER: Variations on Lasst uns das Kindelein wiegen. EUSTACHE du CAURROY: Fantasy on Une jeune fillette –André Isoir (1991 Kern/Saint-Brice d'Ay, France) Calliope 9933
HELMUT WALCHA: Christmas Chorale-preludes (O Heiland, reiss die Himmel auf; Lobt Gott, ihr Christen allzugleich; Gottes Sohn ist kommen; Ihr lieben Christen; Es kommt ein Schiff geladen; Den die Hirten lobten sehre; Macht hoch die Tür) –Renate Meierjürgen (1961 Karl Schuke/Dreikönigskirche, Frankfurt, Germany) Motette 10391; Wolfgang Rübsam (2000 Brombaugh/First Presbyterian Church, Springfield, IL) Naxos 8.572910-12
MAX REGER: Weihnachten, Op. 145, no. 3 –Franz Lehrndorfer (1975 Sandtner/Eichstätt Cathedral, Germany) Celestial Harmonies 14200
JULES GRISON: Fantasy on Adeste fideles –Peter Eilander (1890 Cavaillé-Coll/St. Ouen, Rouen, France) Clarion 2115
Organist
Wolfgang Rübsam
, who plays works by
Helmut Walcha
on today's program, has been selected as 'Artist of the Month' by
Naxos Records
. Check out this interview.