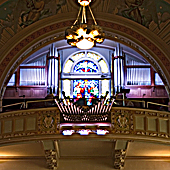 1920; 2002 Casavant Frères organ, Opus 869, at the Église des Saints-Anges-Gardiens, Lachine, Québec, Canada
Oh, Canada!
…a collection of Canadian composers, competition winners, and pipe organs in celebration of Canada Day.
Listen to the program
1 hr 58 Min
59:00 Min
59:00 Min
Program Broadcast dates:
Links and Resources:
Music played in the program
Hour 1
J.S. BACH: Prelude & Fugue in e, BWV 548
Prelude –Marie-Hélene Greffard
Fugue –Mark Edwards
CÉSAR FRANCK: Priere –Mark Edwards
MARCEL DUPRÉ: Variations sur un Noël, Op. 20. J.S. BACH: Chorale-prelude, Allein Gott in der Höh' sei Ehr, BWV 676 –Marie-Helene Greffard
RAYMOND DAVELUY: Epilogue on Nun Danket and Ballerma –Mark Edwards
Filler – BACH BWV 548 (see above)
Greffard [1st Prize] and Edwards [2nd & Daveluy Prize] were the two top award-winners in the 2011 Concours d'orgue de Québec, and performed on the 1960 Phelps; Casavant organ at the Church of Holy Canadian Martyrs in Quebec City. These performances were recorded June 16, 2011 by Radio Canada.
Hour 2
WILLIAM FRANCE: Oboe Tune. GERALD BALES: Petite Suite –Patricia Wright (1930; 1998 Casavant Frères/Metropolitan United Church, Toronto, Ontario, Canada) RCCO 8112
DEREK HOLMAN: Prevent us, o Lord. ANDREW AGER: Sanctus & Agnus Dei from Missa Campanella; Organ Prelude, Op. 30 –Choirs of the Cathedral of St. John, Maxine Thevenot, conductor; Maxine Thévenot & Stephen Tharp (2002 Reuter/Cathedral of Saint John, Albuquerque, NM) Raven OAR-926
JEANNE LANDRY: Hesychia –Maxine Thévenot (1930 E.M. Skinner/Girard College Chapel, Philadelphia, PA) Raven OAR-909
BARRIE CABENA: Eine kleine Morgenmusik, Op. 631 –Andrew Henderson (1937 Casavant Frères/St. John the Evangelist Church, Elora, Ontario, Canada) SJ 101
RACHEL LAURIN: Introduction and Passacaglia on a Theme of Raymond Daveluy, Op. 44 –Isabelle Demers (2002 Casavant Frères/Église des Saints-Anges-Gardiens, Lachine, Québec, Canada) Acis 61256
Filler – CALIXA LAVALLEE: Oh, Canada! (CBC 5198)
Check out many related concerts and other activities sponsored by:
Royal Canadian College of Organists
Les amis de l'orgue de Québec
Elora Festival, July 13-August 5