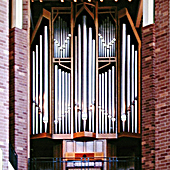 Mildred Andrews Boggess Memorial Organ, 1999 Fisk Opus 111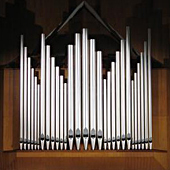 1931 Möller organ, Opus 5819
The American Organ Institute
…we visit the campus of the University of Oklahoma to investigate a path-breaking new curriculum of organ study begun by Professor John Schwandt.
Listen to the program
1 hr 58 Min
59:00 Min
59:00 Min
Program Broadcast dates:
Links and Resources:
Audio Interview:
as two of Mildrid Andrews' students from the 1950s, Elaine George Ehlers and Madolyn Fallis, talk about those early times.
as Dr. Dorothy Young Riess reminisces about her musical studies with Miss Andrews at the University of Oklahoma and with Dupré in Paris.
to how did graduates from St. Olaf College and Yale University end up in an organ studies program at the University of Oklahoma? Christopher Ganza and Adam Pajan explain.
as AOI students Rachel Foster, Mayu Hashigaya, John Riester and
AIO Assistant Director Jeremy Wance chat with Michael Barone about their enthusiasm for the pipe organ.
Additional Online Audio:
Organ Studies at the University of Oklahoma got off the ground in 1938 when Mildred Andrews, who had recently returned from studies in Paris with Marcel Dupré was recruited to the Music Department. It was the beginning of an era that would produce a record number of Fulbright Scholarship recipients.
as Mildred Andrews plays Vincent Lübeck's Praeludium in C on the Aeolian-Skinner organ at First Presbyterian Church in Kilgore, TX. recorded on the 1949
as Elaine George Ehlers plays Dieu parmi nous [God among us], from La Nativité by Olivier Messiaen from a recent Organ Studio Reunion on the C.B. Fisk organ in Gothic Hall. recorded June 11, 2011.
Music played in the program
Hour 1
NICOLAUS BRUHNS: Praeludium in G. ARTHUR FIELDS: Aba Daba Honeymoon –John Schwandt
NED ROREM: There is a spirit that delights to do no evil, from Quaker Reader –Vicki Schaeffer
JEAN LANGLAIS: Fête –Dorothy Young Riess
JEAN LANGLAIS: Epilogue, from Hommage a Frescobaldi –Rachel Foster
CHARLES-MARIE WIDOR: Adagio, from Symphony Number 6. MAURICE DURUFLÉ: Sicilienne, from Suite, Opus 5 –Adam Pajan
BURTON LANE: If this isn't love –Jelani Eddington
Filler – GILKIE: OU Chant, from the AOI CD
Hour 2
CHARLES STROUSE: Put on a happy face, from Bye-bye Birdie. DMITRI KABALEVSKY: Comedian's Galop. STEPHEN SONDHEIM: Send in the clowns, from A Little Night Music. FRANZ von SUPPÉ: Light Cavalry Overture –Jelani Eddington
GEORGE GERSHWIN: Broadway Medley: Swanee, But Not for Me, I've Got Rhythm –Tom Hazleton
JOHN SCHWANDT: Improvisation on Fröhlich soll mein Herze springen –John Schwandt
MANUEL de FALLA: Danza Espanola –Julie Huang
LOUIS VIERNE: Final, from Symphony Number 6 –Christopher Ganza
Filler – ARTHUR FIELDS (see above)
The Organ Studies Program at Oklahoma University embraces the gamut of the pipe organ experience. In classical selections plus arrangements of popular tunes, and through performances and conversations with students, alumni, guest artists and Professor Schwandt himself, we explore the possibilities of this unusual academic environment which honors the past, embraces the present, and fosters the future!
We salute University President David L. Boren for his foresight in support of the initiative of the American Organ Institute.
The featured instruments at the Catlett Music Center are a 1999 Fisk mechanical-action organ, the Mildred Andrews Boggess Memorial Organ housed in Gothic Hall, the Center's cathedral-like foyer, and a 1931 Möller organ, Opus 5819, formerly of the Philadelphia Convention Hall which is at this time partially installed in the Catlett Center's main auditorium.