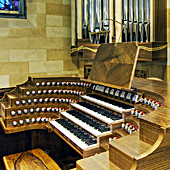 2010 Quoirin organ in Ascension Episcopal Church, New York, NY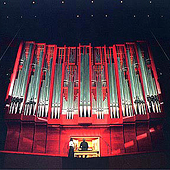 1997 Rieger organ at Town Hall, Christchurch, New Zealand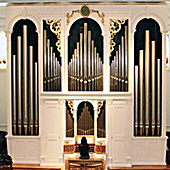 1961 Beckerath organ at H. Douglas Lee Chapel, Elizabeth Hall, Stetson University, DeLand, Florida

Jane Edge,
[1927—2011]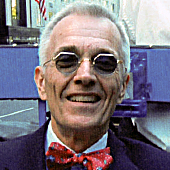 Richard Torrence,
[1938—2011]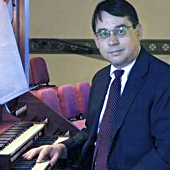 Robert Parris,
[1952—2011]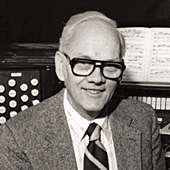 Oswald Ragatz,
[1917—2011]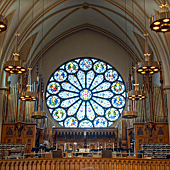 2011 Schantz organ in the Gesu Church, Milwaukee, WI
An Organist's Yearbook
…the annual end-of-the-year reflection, with highlights from recent recordings, concert excerpts, prize-winning performances and more.
Program Broadcast dates:
Week of December 26, 2011
Links and Resources:
Audio Interview:
Christchurch Town Hall Organist Martin Setchell reflects further on the situation on New Zealand's South Island. Note: Only days after we recorded Setchell's reflections, the island suffered further earthquake damage on Christmas Eve. Our hearts go out to the citizens there whose lives continue to be challenged by nature's power.
Music played in the program
Hour 1
JEAN-BAPTISTE LULLY: Overture, L'Amour malade –Frederic Deschamps (2010 Quoirin/Ascension Episcopal Church, New York, NY) Pipedreams Archive recorded May 26, 2011
J.S. BACH: Trio Sonata Number 1 in E-flat, 3rd movement, Allegro, BWV 525 –David Yearsley (2010 GOArt-Schnitger/Anabel Taylor Chapel, Cornel University, Ithaca, NY) Pipedreams Archive recorded March 8, 2011
HEALEY WILLAN: Fugue, from Introduction, Passacaglia & Fugue –Bill Chouinard (2011 Schantz/Gesu Church, Milwaukee, WI) Pipedreams Archive recorded August 13, 2011
PERCY WHITLOCK: Scherzetto, from Sonata –Christian Lane (1891; 1924; 1991 Casavant Frères/Basilique Notre-Dame, Montréal, Québec, Canada) Pipedreams Archive recorded October 14, 2011
CIOC First Prize Winner
RAYMOND DAVELUY: Herzlich tut mich erfreuen –David MacDonald (1963 Casavant Frères/Basilique Notre-Dame-du-Cap, Cap-de-la-Madeleine, Québec, Canada) CBC 1104
85th birthday tribute to Mr. Daveluy, [b. December 23, 1926]
OLIVIER MESSIAEN: The Fountain of Life, from Book of the Holy Sacrament –Paul Jacobs (1932 Aeolian-Skinner/St. Mary the Virgin Episcopal, New York, NY) Naxos 8.572436/7
2011 Grammy Award winner
JAMES H. ROGERS: Intermezzo, from Suite for Organ –Charles Echols (2007 Casavant Frères/Natavity Catholic Church, Saint Paul, MN) Pipedreams Archive recorded September 25, 2011
FELIX ARNDT: Nola. PAUL SPICER: Introduction & Finale, from Kiwi Fireworks –Martin Setchell, (1997 Rieger/Town Hall, Christchurch, New Zealand) Atoll ACD601 & ACD603
ROBIN DINDA: Fast & Lively, from Organ Concerto Number 1, premiere –Eastern Festival Orchestra, Gerard Schwarz, conductor; John Alexander (1982 C.B. Fisk/Christ UMC, Greensboro, NC) Pipedreams Archive recorded June 29, 2011
SIR EDWARD ELGAR: Coda, from Organ Sonata Nlo. 2 –Anthony Hammond (1912 Harrison & Harrison/St. Mary Redcliffe, Bristol, England, UK) Priory PRCD1037
Filler –SIR EDWARD ELGAR (see above)
Hour 2
LOUIS-JAMES-ALFRED LEFÉBURE-WÉLY: March –Jane Edge (1896 Felgemaker/Holy Spirit Episcopal, Vashon Island, WA) AFKA SK-536
In Memoriam Jane Edge, [1927—2011]
DAVID PIZARRO: Trisagion Fanfares –Cathedral Choir, Richard Westenburg, conductor; David Pizarro (1954 Aeolian-Skinner; 2008 Quimby/Cathedral of Saint John the Divine, New York, NY) Vanguard 6013
In Memoriam David Pizarro, [1931—2011]
MAURICE DURUFLÉ: Scherzo, Opus 2 –Oswald Ragatz (1965 Wicks/Wicks Studio, Highland, IL) Wicks 0092
In Memoriam Oswald Ragatz, [1917—2011]
J.S. BACH: All men are mortal, BWV 643 –Virgil Fox (1953 Aeolian-Skinner/Riverside, New York, NY) Virgil Fox Legacy 4135
In Memoriam Richard Torrence, [1938—2011], long-time friend, manager, and promoter of Virgil Fox
JOHNNY MERCER: Hurray for Hollywood –Walt Strony (Wurlitzer/Krughoff residence, Downer's Grove, IL) WSOC-1
American Theatre Organ Society Hall of Fame 2011 Inductee
CHARLES-MARIE WIDOR: Pastorale, from Symphony Number 2, Opus 13, number 2 –Frederick Hohman (1927 Casavant Frères; 2001 Schantz/St. Andrew Lutheran, Mahtomedi, MN) Pro Organo 7202
10th anniversary of Casavant-Schantz organ in its new home
J.S. BACH: Prelude in G, BWV 541 –Alison Luedecke (1961 Beckerath/Stetson University, DeLand, FL) Raven 610
60th anniversary of Beckerath organ
LEO SOWERBY: Organ Concerto in C, 1st movement –Los Angeles Philharmonic, Alexander Mickelthwate, conductor; Robert Parris (2004 Glatter-Götz, Rosales/Walt Disney Concert Hall, Los Angeles, CA) Pipedreams Archive recorded July 8, 2004
In Memoriam Robert Parris, [1952—2011]
LEE HOIBY: The Offering –Memphis Boychoir & Chamber Choir and Pro Arte String Ensemble, John Ayer, conductor; David Kienzle (1927 Kilgen; 1956; 1975 Schantz/Episcopal Cathedral of Saint Mary, Memphis, TN) Pro Organo 7073
In Memoriam Lee Hoiby, [1926—2011]
Filler –ROGERS (see above)