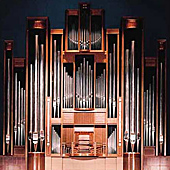 1992 C.B. Fisk organ, Opus 100, at Meyerson Symphony Center, Dallas, Texas
Pipedreams Live! in Dallas
…performances by soloists from Dallas and Fort Worth, Texas, in concert at the Meyerson Symphony Center.
Listen to the program
1 hr 58 Min
59:00 Min
59:00 Min
Program Broadcast dates:
Week of November 21, 2011
Links and Resources:
Music played in the program
Hour 1
FRANZ LISZT: Prelude & Fugue on B-A-C-H –Dong-ill Shin, organ
ROBERT ANDERSON: Te Deum - Chris Anderson, organ
DANIEL GAWTHROP: Three Floral Preludes –Yoon-Mi Lim, organ
GEORGE C. BAKER: Variations on Rouen; Iste Confessor, premiere –Stephen Tharp, organ
Hour 2
NOEL GOEMANNE: Toccata –Henry McDowell, organ
LIONEL ROGG: Partita on Nun freut euch, lieben Christen –Susan De Kam, organ
KIYO WATANABE: 2 Hymn Preludes The Church's One Foundation; How with creation's morning song –Kiyo Watanabe, organ
ROBERT SCHUMANN: Fugue Number 6 on B-A-C-H, Opus 60 –Christopher Berry, organ
ERMEND BONNAL: Cloches dans le ciel, from Paysages Euskariens –Mary Preston, organ
All performances were given on September 13, 2010 on the the Lay Family Concert Organ, a 1992 C. B. Fisk instrument at the Meyerson Symphony Center in Dallas, TX. The recording heard here was made by George Gilliam.
Watch a YouTube video of Dong-ill Shin playing his Liszt piece on the Casavant organ at Broadway Baptist Church in Fort Worth, TX. from his Pro Organo CD release.