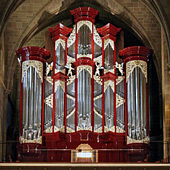 2006 Fritts organ at Cathedral of St. Joseph, Columbus, Ohio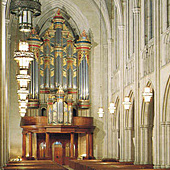 1976 Flentrop organ at Duke University Chapel, Durham, North Carolina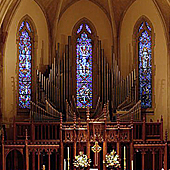 1962 Aeolian-Skinner organ, Opus Op 1399, at the Episcopal Cathedral of St. Philip, Atlanta, Georgia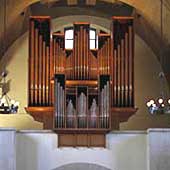 1958 Flentrop organ at Adolphus Busch Hall, Harvard University, Cambridge, Massachusetts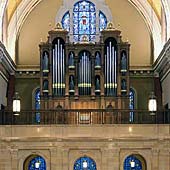 2003 Pasi organ at the Cathedral of St. Cecilia, Omaha, Nebraska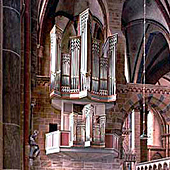 1966 Vulpen organ at Petri Dom, Bremen, Germany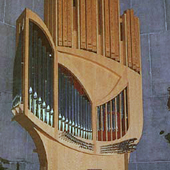 1978 Kleuker organ at Église Notre-Dame-de-Neiges, L'Alpe d'Huez, France
Solid Gold(bergs)
…a collaborative offering of Bach's famous and thought-provoking set of variations, plus other works in 'G'.
Listen to the program
1 hr 58 Min
59:00 Min
59:00 Min
Program Broadcast dates:
Week of November 14, 2011
Links and Resources:
Music played in the program
Hour 1
J.S. BACH: Prelude in G, BWV 568 –Wolfgang Rübsam (1976 Flentrop/Duke University Chapel, Durham, NC) Naxos 8.553031
J.S. BACH: The Goldberg Variations, BWV 988, begun:
…Aria and Variations 1-3 –Jean Guillou (1978 Kleuker/Église Notre-Dame-de-Neiges, L'Alpe d'Huez, France) Dorian DOR 90110
…Variations 4-6 –Käte van Tricht (1966 Vulpen/St. Peter Cathedral, Bremen, Germany) Dabringhaus und Grimm MDG 3386
…Variations 7-9 –Hansjörg Albrecht (2000 Mühleisen/Abbey Church, Bad Gandersheim, Germany) Oehms 625
…Variations 10-12 –Stephen Tharp (2006 Fritts/Cathedral of St. Joseph, Columbus, OH) JAV CD-172
…Variations 13-15 –Matt Curlee (1958 Flentrop/Adolphus Busch Hall, Harvard University, Cambridge, MA) Pro Organo CD 7048
…Variation 16 (arranged by Middelschulte) –Jürgen Sonnentheil (1997 Woehl/St. Petrus Canisius Kirche, Friedrichshafen, Germany) cpo 777 215
J.S. BACH: Piece d'Orgue in G, BWV 572 –Wolfgang Rübsam (1987 Metzler/St. Michael's Church, Eutin, Germany) Naxos 8.553150
Filler –Variation Number 3, Jean Guillou (see above)
Hour 2
J.S. BACH: Prelude & Fugue in g, BWV 535 –George Ritchie (2003 Pasi/Cathedral of St. Cecilia, Omaha, NE) Raven OAR-740
J.S. BACH: The Goldberg Variations, BWV 988, concluded:
…Variations 16-18 –Daniel Sullivan (1962 Aeolian-Skinner/Episcopal Cathedral of St. Philip, Atlanta, GA) Raven OAR-905
…Variations 19-21 –Elena Barshai (1976 Metzler/Church of St. Peter & Paul, Villmergen, Switzerland) Brilliant Classics 93765
…Variations 22-24 –Abram Bezuijen (1710 Schnitger/Evangelical Reformed Church, Weener, Germany) VLS Records 0598
…Variations 25-27 –Frank Volke (1971 Beckerath/St. Andreas Church, Düsseldorf, Germany) Motette CD MOT 12571
…Variations 28-30 –Winfried Bönig (2003 Ahrend/Ursulinenkirche St. Corpus Christi, Cologne, Germany) Motette CD MOT 13494
…Aria, reprise –Catherine Ennis (2000 Klais/Commonwealth Chapel, St. Lawrence Jewry, London, England, UK) Mollterz 001
J.S. BACH: Fugue in g, BWV 542 –Olivier Latry (1979 Felsburg/Église Saint-Martin, Colmar, France) BNL 112769
Filler –Aria, Jean Guillou (see above)
For your convenience and amazement, you can link to a detailed description of Bach's score of the Goldberg Variations, to learn a bit more about its intricacies, and also download a complete score of the Goldberg Variations to follow along.
Each of the dozen players involved in today's presentation has recorded Bach's Goldberg Variations in its entirety…offering many additional hours of future involvement for the thorough listener.