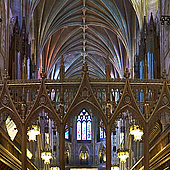 1938 Ernest M. Skinner & Son; 1975 Aeolian-Skinner organ, Opus 510, at National Cathedral, Washington DC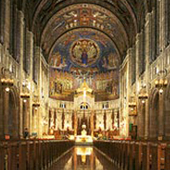 1931 E.M. Skinner organ at Our Lady Queen of the Most Holy Rosary Cathedral, Toledo, Ohio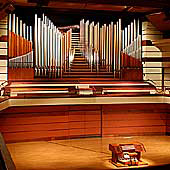 2003 Blackinton organ at Benson Great Hall, Bethel University, Saint Paul, Minnesota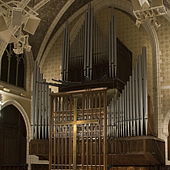 1963 Casavant Frères organ at Central Lutheran Church, Minneapolis, Minnesota
In Concert
…from 'lively' contexts in Saint Paul, Minneapolis, and Amarillo, recitalists Hector Olivera, Stephen Tharp, Craig Phillips and others perform.
Program Broadcast dates:
Links and Resources:
Interview Audio:
Listen Stephen Tharp talks with Michael Barone about French composer Jeanne Demessieux.
Listen Composer-organist Craig Phillips discusses his compositional process with Michael Barone.
Music played in the program
Hour 1
J.S. BACH: Prelude & Fugue in E-flat, BWV 552 –Hector Olivera (2003 Blackinton/Benson Great Hall, Bethel University, Saint Paul, MN) Pipedreams Archive recorded April 17, 2009
JEANNE DEMESSIEUX: Prelude & Fugue in C, Opus 13[1964]; Andante [1953]; Te Deum, Opus 11 [1958] –Stephen Tharp (1963 Casavant Frères/Central Lutheran, Minneapolis, MN) Pipedreams Archive recorded October 29, 2010
CRAIG PHILLIPS: Scenes from a Gallery, premiere –Annie Chalex, violin; Brad Garner, flute; Craig Phillips (1942 Aeolian-Skinner/St. Andrew Episcopal, Amarillo, TX) Pipedreams Archive recorded April 23, 2010
Filler –JEANNE DEMESSIEUX Prelude (see above)
Hour 2
TRADITIONAL (arranged by Lemare): Londonderry Air MARCEL DUPRÉ: Cortege & Litany, Opus 19, number 2. –Todd Wilson (1931 E.M. Skinner/Cathedral of our Lady Queen of the Most Holy Rosary, Toledo, OH) Pipedreams Archive recorded July 7, 2009
G.F. HANDEL: Organ Concerto in F, Opus 4, number 5. JONATHAN HARVEY: Toccata for Organ and Tape[1980]. MAX REGER: Toccata & Fugue in d/D, Opus 59, numbers 5 & 6 –John Scott, recorded June 25, 2006 (1938 Ernest M. Skinner & Son; 1975 Aeolian-Skinner/National Cathedral, Washington, DC) JAV CD-167
J.S. BACH: Nun danken alle Gott, BWV 657 –chorale sung by members of the Organ Historical Society, Joan Lippincott (1957 Beckerath/Trinity Evangelica Lutheran, Cleveland, OH) Pipedreams Archive recorded July 6, 2009
ALFRED FEDAK: Invocation & Dance –Franciscan Chamber Orchestra, Lanfranco Marcielletti, conductor; Huw Lewis (1976 Schlicker; 1992 Carey/St. Peter's Episcopal Church, Albany, NY) Pipedreams Archive recorded May 12, 2000
Filler –J.S. BACH Fugue in E-flat, BWV 552 (see above)
On November 18, 2011, Stephen Tharp (see Demessieux above) plays a concert at Grace Church Brooklyn Heights in New York to benefit the completion of an organ restoration project…with all the repertoire 'commissioned' in advance by donors.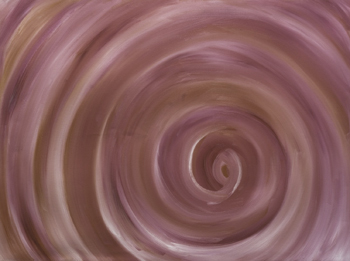 I. First Chakra Light, based on a painting by Barbara W. Lines
171 West St, St. Helens, OR 97051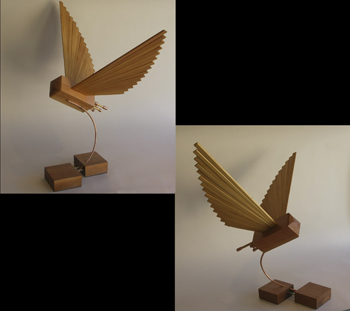 II. Calculated Risk, based on a sculpture by Michael Westmoreland
www.ScarabArt.netinfo@scarabart.net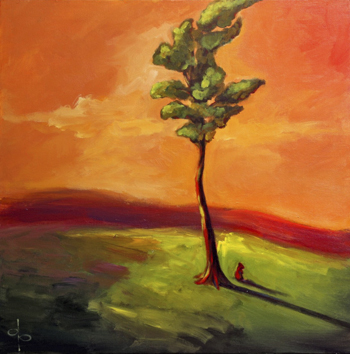 III. Never Alone, based on a painting by Dianna Price
studiodirtyfix@gmail.com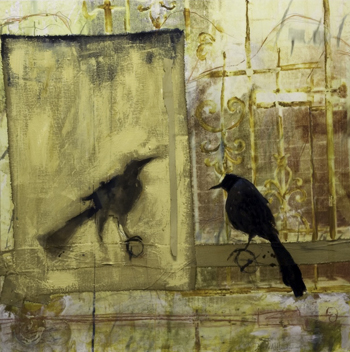 IV. Muse, based on a painting by Deborah Houston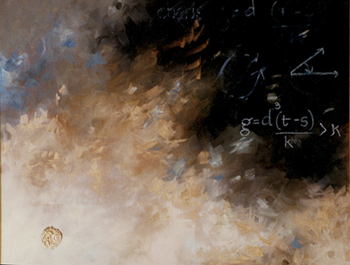 V. Mathematical Equation for Grace, based on a painting by Jena Taylor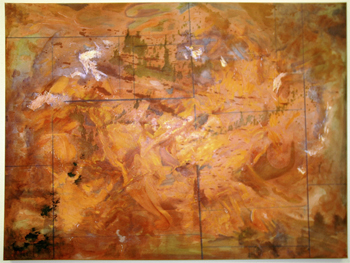 VI. Breaking Loose, based on a painting by Karen Wolfram
www.artamarillo.com