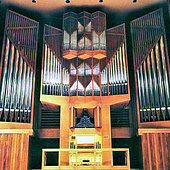 1974; 2010 Kuhn organ at Alice Tully Hall, Lincoln Center, New York, New York
Bach in the Big Apple
…Paul Jacobs celebrates the reinstallation of the 1974 Kuhn pipe organ at Lincoln Center's renovated Alice Tully Hall with a performance of Clavierübung III.
Listen to the program
1 hr 58 Min
59:00 Min
59:00 Min
Program Broadcast dates:
Featured Organ:
Links and Resources:
Interview Audio:
Ara Guzelimian and Paul Jacobs engage in a pre-concert discussion of this event.
40:59 Min
Interview Segments by subject matter.
9:04 Min
5:30 Min
1:33 Min
4:47 Min
4:13 Min
3:02 Min
3:44 Min
9:05 Min
Music played in the program
Hour 1
JOHANN SEBASTIAN BACH: Clavierübung III:
Prelude in E-flat, BWV 552a
Kyrie, Gott Vater in Ewigkeit, BWV 669/672
Christe, aller Welt Trost, BWV 670/673
Kyrie, Gott heiliger Geist, BWV 671/674
Allein Gott in der Höh sei Ehr', BWV 675/677
Dies sind die heilgen zehen Gebot, BWV 678/679
Wir glauben all an einen Gott, BWV 680
Hour 2
J.S. BACH: Clavierübung III, continued…
Wir glauben all an einen Gott, BWV 681
Vater unser im Himmelreich, BWV 682/683
Christ, unser Herr, zum Jordan kam, BWV 684/685
Aus tiefer Not schrei ich zu dir, BWV 686/687
Jesus Christus, unser Heiland, BWV 688/689
4 Duets, BWV 802-805
Fugue in E-flat, BWV 552b
To commemorate the 200th anniversary of Martin Luther's visit to Leipzig, in 1739 Bach oversaw the publication of this Third Part of his Clavier-Übung, Keyboard Exercise, the longest and most problematic of all printed works that appeared during his lifetime. Clavierübung III, in his words "…consist[s] of various preludes on the catechism and other hymns for the organ; for music lovers and especially for connoisseurs of such work, to refresh their spirits."
Sometimes called the German Organ Mass, this remarkable volume begins with a majestic Prelude with three themes, and concludes with a magnificent organo pleno fugue with three subjects. Between these are multiple intricate settings of chorale melodies relating to the Missa Brevis; Kyrie and Gloria, BWV 669-677; the Ten Commandments, BWV 678/9; the Creed, BWV 680/1; the Lord's Prayer, BWV 682/3; the Sacrament of Holy Baptism, BWV 684/5; the Office of the Keys and Confession, BWV 686/7; and the Sacrament of the altar, BWV 689.
Explore more thoroughly the Clavierübung III including the historic background and musical content of this remarkable collection.
The intricacy of Bach's writing is profound, with multiple numerological and other symbolic references such as the Trinitarian implications of the prelude and fugue…with three themes, in the key of E-flat, with three flats. Most of the chorales are set twice, one version for organ with multiple keyboards and pedal, the other for a single manual keyboard only, presumably for 'domestic use' and for the Gloria, Bach, in another gesture to the Trinity, provides three settings. Yet for all its intellectual complexity, the music also amazes through its elegance and supple virtuosity.
As reference points, in this performance the Clarion Choir, led by Steven Fox, will sing the relevant hymns prior to Mr. Jacobs' performance of Bach's transformations of them.
Also included in Bach's 1739 volume, with no liturgical references at all, are four Duettos, complex two-part 'inventions' in the keys of E-minor, F, G and A-minor, BWV 802-805.
This music was performed to a sold-out house on Tuesday evening, November 16, 2010 as part of the White Light Festival at Lincoln Center. Broadcast presentation was made possible, in part, through the cooperation of Lincoln Center and by the generous participation of the Juilliard School, Joseph W. Polisi, president.