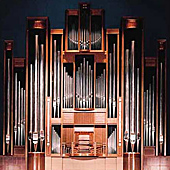 1992 C.B. Fisk organ, Opus 100, at Meyerson Symphony Center, Dallas, Texas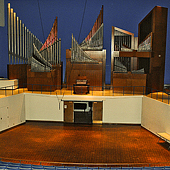 1964 Holtkamp organ at Hemmle Recital Hall, Texas Tech University, Lubbock, Texas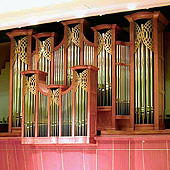 2006 Kegg organ at Texas A & M International University, Laredo, Texas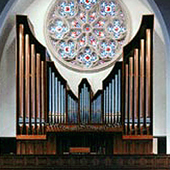 1978 Schudi organ at Saint Thomas Aquinas, Dallas, Texas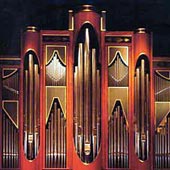 1993 C.B. Fisk organ, Opus 101, at Caruth Auditorium, SMU, Dallas, Texas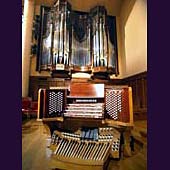 1954 Aeolian-Skinner; 2003 Garland organ at the First United Methodist Church, Wichita Falls, Texas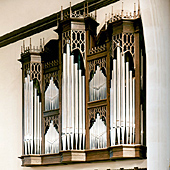 1961 Aeolian-Skinner; 1994 Noack organ, Opus 127, at the Church of the Incarnation, Dallas, Texas
A Tour Around Texas
…bigger-than-life performances on notable pipe organs in and around the Lone Star State.
Listen to the program
1 hr 58 min
59:00 min
59:00 min
Program Broadcast dates:
Links and Resources:
Music played in the program
Hour 1
CÉSAR FRANCK: Piece heroique –Kevin Clarke (1961 Aeolian-Skinner; 1994 Noack/Incarnation Episcopal, Dallas, TX) Pro Organo CD 7217
FRANK SPELLER: Toccata, The Majesty of Christ –Frank Speller (1981 Visser-Rowland/Bates Recital Hall, University of Texas, Austin, TX) Albany TROY049
MAX REGER: Chorale-prelude, Jauchz', Erd', und Himmel, juble!, Opus 67, number 15 –Mary Preston (1992 C.B. Fisk/Meyerson Symphony Center, Dallas, TX) Gothic G49094
CHARLES-MARIE WIDOR: Allegro vivace, from Symphony Number 5, Opus 42, number 2 –Dame Gillian Weir (2008 Wolff/Winspear Performance Hall, University of North Texas, Denton, TX) Pipedreams Archive recorded October 21, 2008
REGINALD STEGGALL: Concert Piece, Opus 7 –Festival Orchestra, Kent Stalker, conductor; Sigurd Øgaard (1964 Holtkamp/Hemmle Recital Hall, Texas Tech University, Lubbock, TX) Pipedreams Archive recorded June 27, 2004
Filler –FRANK SPELLER: Toccata (see above)
Hour 2
CRAIG SELLER LANG: Fanfare, Opus 85 –E. Davis Wortman II (1992 Schoenstein/Wynne Chapel, Highland Park Presbyterian, Dallas, TX) Highland Park Presbyterian CD-1001
MAX REGER: Fantasy in d, Opus 135b –Christopher Anderson (1993 C.B. Fisk/Caruth Auditorium, SMU, Dallas, TX) SMU 2009
RAMÓN NOBLE: Danza Espagnola –David Heller (2006 Kegg/Texas A&M International University, Laredo, TX) Pro Organo CD 7218
RAYMOND HAAN: Pastorale, from 3 Lyric Pieces. MARCEL DUPRÉ: Crucifixion, from Symphonie Passion, Opus 23 –Bradley Hunter Welch (1996 Casavant Frères/Broadway Baptist, Fort Worth, TX) Loft LRCD-1084
ROY PERRY: Christos Patterakis –Kiyo Watanabe (1954 Aeolian-Skinner; 2003 Garland/FUMC, Wichita Falls, TX) Watanabe 2005
CHARLES CALLAHAN: Arioso & Trumpet Tune –James Culp (1949 Aeolian-Skinner/First Presbyterian, Kilgore, TX) Guild GMCD 7212
J.S. BACH: In Dir ist Freude, BWV 615. J.S. BACH: Jesu, joy of man's desiring, from Cantata Number 147. EUGÈNE GIGOUT: Grand Choeur Dialogue –Joyce Jones (1978 Schudi/St. Thomas Aquinas RCC, Dallas, TX) Word 9166.598
Filler –REGINALD STEGGALL (see above)
Michael Barone will host another popular PIPEDREAMS LIVE! event in Dallas, featuring an all-star roster of regional soloists, at the Meyerson Symphony Center on Monday night, September 13. Sponsors include the Dallas and Fort Worth chapters of the American Guild of Organists and Classical 101-WRR-FM. Plan ahead…we hope for a capacity crowd that includes you!