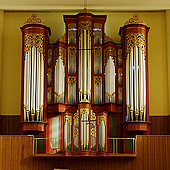 1974 Flentrop organ at Warner Concert Hall at Oberlin College, Ohio
A Bach Birthday at Oberlin
…with students from the Oberlin Conservatory and musicologist Steve Plank, we celebrate 'live' at Warner Hall.
Listen to the program
1 hr 58 min
59:00 min
59:00 min
Program Broadcast dates:
Links and Resources:
Featured Intstrument:
(1974 Flentrop/Warner Concert Hall, Oberlin Conservatory, Oberlin, OH)
Music played in the program
Hour 1
J.S. BACH: Praeludium in G, BWV 550 –Daniel Tappe, organ.
J.S. BACH: Trio Sonata Number 5 in C, BWV 529 Largo & Allegro –Songsun Lee, organ.
J.S. BACH: Aria, Christi Glieder, ach bedenket, from Cantata Number 132 –Katherine Lerner, mezzo-soprano; Johanna Novom, violin; Zoe Weiss, cello; Benjamin Katz, organ.
J.S. BACH: Chorale-prelude, Allein Gott in der Höh' sei Ehr, BWV 662 –Jakub Bukowczan, organ.
J.S. BACH: Fantasy & Fugue in g, BWV 542 –Yoon-Jin Hwang, organ.
Filler –Praeludium in G, BWV 550 (see above)
Hour 2
J.S. BACH: Fuga sopra il Magnificat, BWV 733 –Jonathan Wessler, organ
J.S. BACH (attributed to Goldberg): Trio Sonata in C, BWV 1037 –Johanna Novom, Anne Marie Christensen, violins; Dorette Roos, cello; John McKean, harpsichord
J.S. BACH: Chorale-prelude, Schmücke dich, o liebe Seele, BWV 654 –James Feddeck, organ
J.S. BACH: Prelude & Fugue in b, BWV 544 –Bálint Karosi, organ
Filler –Fantasy in g, BWV 542 (see above)
This event was presented in cooperation with Cleveland's classical music radio station, WCLV-104.9FM, and recorded March 21, 2006 by the Oberlin College Audio Department, directed by Paul Eachus.
And, by way of full disclosure, Michael Barone attended Oberlin from 1964-1968, earned a BM degree in Music History from the Conservatory, studied organ there with Haskell Thomson, who must still be bemused by how things turned out, and got his start in radio as the 'director of classical music' at the little student-run campus station WOBC-91.5FM, which no longer broadcasts any classical music.