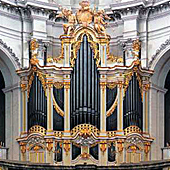 1755 Silbermann organ at Hofkirche, Dresden, Germany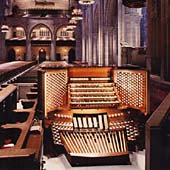 1953 Aeolian-Skinner organ, Opus 1118, at Riverside Church, New York, New York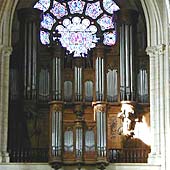 1899 Didier organ at Notre Dame Cathedral, Laon, France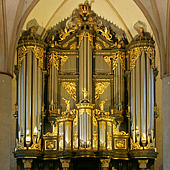 1692 Arp Schnitger organ at Martinikerk, Groningen, The Netherlands
Bach Around the Block
…varied interpretations, transcriptions, arrangements, and outlooks enhance our appreciation of the music of Johann Sebastian Bach.
Listen to the program
1 hr 58 min
59:00 min
59:00 min
Program Broadcast dates:
Links and Resources:
Music played in the program
Hour 1
J.S. BACH: Prelude & Fugue in C, BWV 531 –James Kibbie (1717 Trost/St. Walpurgis Church, Grossengottem, Germany) Kibbie 2008
Professor Kibbie is in the process of recording the complete Bach organ works, many of which are, or soon will be, available as free downloads.
J.S. BACH: 3 Chorale-preludes: Allein Gott in der Höh, BWV 711 & 715; Herr Jesu Christ, BWV 709 –Jean Guillou (1988 Kleuker-Steinmeyer/Tonhalle, Zürich, Switzerland) Dorian DOR 90151
J.S. BACH: Praeludium in G, BWV 568 –Tristan Schulze (Hammond C3) Barefoot 001
J.S. BACH: Toccata in F, BWV 540a –Virgil Fox (1953 Aeolian-Skinner/Riverside, New York, NY) OrganArts CD-4135
J.S. BACH: Fugue in F, BWV 540b –Ullrich Böhme (1908 Sauer/St. Thomas Church, Leipzig, Germany) Salicet 3604
J.S. BACH: Trio Sonata Number 4 in e, BWV 528 –Reine-Marie Verhagen, recorder; Tini Mathot (Garnier chamber organ) Challenge Classics 72314
J.S. BACH: Toccata & Fugue in d, BWV 565 –Gerhard Weinberger (1755 Silbermann/Hofkirche, Dresden, Germany) cpo 777 186
Filler –Fugue in G, BWV 531 (see above)
Hour 2
J.S. BACH: Preludes & Fugues in g & G, from Well-tempered Clavier, Book 2, BWV 884 & 883 –Frédéric Desenclos (1727 Verhofstad; 1786 Wolfferts; 1860 Naber/St. Maartenskerk, Zaltbommel, The Netherlands) Triton 331104
J.S. BACH (arranged by Charles-Marie Widor): Prelude in d, BWV 855, from Well-tempered Clavier, Book I –Christian von Blohn (1899 Didier/Notre Dame Cathedral, Laon, France) IFO 00 101
J.S. BACH: Fughetta, Allein Gott in der Höh, BWV 677; Prelude & Fugue in A, BWV 536 –Cristina Garcia Banegas (2002 Thomas/Notre Dame, Gedine, Belgium) Perro andaluz 2002
J.S. BACH: Fantasy & Fugue in c, BWV 537 –Ute Gremmel-Geuchen (1752 König; 2000 Verschueren/Paterskirche, Kempen, Germany) Aeolus AE10231
J.S. BACH: Chorale-prelude, Wachet auf, ruf uns die Stimme, BWV 645 –Karel Paukert (1972 Holtkamp/Gartner Auditorium, Cleveland Museum of Art, OH) Azica 71248
J.S. BACH: Chorale-preludes, Wachet auf, ruft uns die Stimme, BWV 645; Nun komm, der Heiden Heiland, BWV 659 –Bruno Cocset, cello & gamba; Richard Myron, contrabass; Bertrand Cuiller (2000 Jean-Francois Mingot chamber organ) Alpha 139
J.S. BACH (transcribed by de Jong): Cantata Concertato: movements from Cantatas 248, 110 & 171 –Euwe & Sybolt de Jong (1692 Arp Schnitger [plus additions]/Martinikerk, Groningen, The Netherlands) WestraMedia 04
Filler –Fugue in A, BWV 536 (see above)