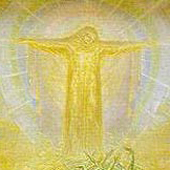 Detail from Jean Delville's
L'Homme-Dieu [1901-02]
This Joyful Eastertide
…celebrate the springtime festival of rebirth with anthems ancient and modern and sonorous solos old and new.
Listen to the program
1 hr 58 min
59:00
59:00

Program Broadcast dates:
Links and Resources:
Music played in the program
Hour 1
CHARLES-MARIE WIDOR: Surrexit a mortuis, Opus 23, number 3 –Westminster Cathedral Choir, James O'Donnell, conductor; Joseph Cullen & Andrew Reid (1932 Henry Willis & Sons/Westminster Cathedral, London, England, UK) Hyperion CDA66898
CHARLES TOURNEMIRE (transcribed by Maurice Duruflé): Choral-Improvisation, Victimae Paschali –Andrew Arthur (1910; 2002 Harrison & Harrison/All Saints, Margaret Street, London, England, UK) Priory PRCD818
PLAINSONG: Sing, my tongue, the glorious battle, Pange lingua –Ely Cathedral Choir, Paul Trepte, conductor; Jonathan Lilley (1908; 2001 Harrison & Harrison/Cathedral, Ely, England, UK) Priory PRCD724
JEAN TITELOUZE: Chant Versets, Pange lingua –Sylvain Ciaravolo (1676 Joyeuse/Rodez Cathedral, France) ADDA CD-581305
FELIX MENDELSSOHN: Surrexit pastor bonus, Opus 39, number 3 –Gloria Dei Cantores, Elizabeth Patterson, conductor; James Jordan (1864 E. & G.G. Hook/Mechanics Hall, Worcester, MA) Gloria Dei Cantores 107
JOHN FERGUSON: Up from the grave he rose –Andrew Peters (2001 Schoenstein/Franklin Historic Presbyterian, Franklin, TN) Peters CD-10420
BERNARD PICHÉ: Rhapsodie de Paques –Michelle Quintal (1963 Casavant Frères/Basilique Notre-Dame-du-Cap, Cap-de-la-Madeleine, Québec, Canada) Quint CD-110103, Contact for the availbility of this recording.
Filler –CHARLES-MARIE WIDOR: (see above)
Hour 2
CHARLES WOOD: This Joyful Eastertide. CHARLES VILLIERS STANFORD: Ye choirs of new Jerusalem –Choir of Wells Cathedral, Anthony Crossland, conductor; Andrew Nethsingha (1857 Henry Willis; 1974 Harrison & Harrison/Wells Cathedral, England, UK) Priory PRCD5031
JEANNE DEMESSIEUX: Répons pour le Temps de Paques –Marcus Torén (2000 van den Heuvel/Katarina Church, Stockholm, Sweden) IFO 00 129
GEORG BÖHM: Partita, Freu dich sehr, o meine Seele –Arjan Versluis (1743 Hinsz/Bovenkerk, Kampen, The Netherlands) D.E. Versluis 1009
GEORG BÖHM: Chorale-prelude, Christ lag in Todesbanden –Wouter van deen Broek (1721 Schnitger/St. Michael Church, Zwolle, The Netherlands) Fidelio Praestant 6612
J.S. BACH: 3 Easter Chorale-preludes: Erschienen ist der herrliche Tag, S. 629; Heut triumphieret gottes Sohn, S. 630; Erstanden ist der heilge Christ, S. 628 –Fynske Chamber Choir, Alice Joensen, conductor; Kevin Bowyer (1962; 1987 Marcussen & Søn/St. Hans Church, Odense, Denmark) Nimbus NI 5457/8
HANS FRIEDRICH MICHEELSEN: Fantasy, Erschienen ist der herrliche Tag –Leonore Lub (1696 Schnitger/Reformed Church, Noordbroek, The Netherlands) VLS Records 0305
JUDITH BINGHAM: Jesum quaeritis Nazarenum, from The Ivory Tree –Cathedral Choir, James Thomas, conductor; David Humphreys (1970 Nicholson/Cathedral of St. Edmundsbury, England, UK) Regent 295
PAUL DRAYTON: Easter Anthem, Love's redeeming work is done –St. Mary's Singers, Christopher Gray, conductor; Tom Little (1887 Henry Willis/Truro Cathedral, England, UK) Regent 291
Filler –BERNARD PICHÉ (see above)