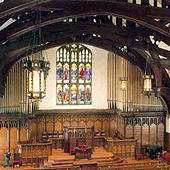 1981 Holtkamp organ, Opus 1965, at Plymouth Congregational Church, Minneapolis, MN.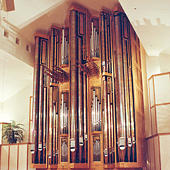 1990 Visser-Rowland organ at Wooddale Church, Eden Prairie, MN.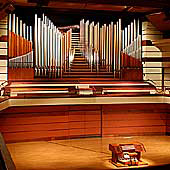 2003 Blackinton organ in Benson Great Hall at Bethel College, Saint Paul, MN.
Pipedreams Live! at AGO 2008
(Part 2)
…in celebration of the International Year of the Organ, more excerpts from the American Guild of Organist's National Convention in Minnesota.
Listen to the program
1 hr 28 min
35:21
27:11
25:35

Program Broadcast dates:
Links and Resources:
Music played in the program
Part 1
RON NELSON: Pebble Beach Sojourn –AGO Festival Brass & Percussion Ensemble, Philip Brunelle, conductor; James Diaz (2003 Blackinton/Benson Great Hall, Bethel University, Saint Paul, MN) recorded June 24, 2008
LEROY ANDERSON: Easter Song. LEROY ANDERSON: Trumpeter's Lullaby. RICHARD PURVIS: Fanfare –Jelani Eddington (1981 Holtkamp/Plymouth Congregational, Minneapolis, MN) recorded June 25, 2008
RACHEL LAURIN: Prelude & Fugue in f, premiere –Stewart Wayne Foster (2005 Glatter-Götz, Rosales/Augustana Lutheran, West Saint Paul, MN) recorded June 26, 2008
Part 2
PAUL MANZ: Hymn-Improvisation, Now thank we all –Scott Montgomery (1990 Visser-Rowland/Wooddale Church, Eden Prairie, MN) recorded June 25, 2008
HENRY MARTIN: Prelude & Fugue in E-minor; Prelude & Fugue in G, premiere –Ken Cowan (1990 Visser-Rowland) recorded June 25, 2008
Part 3
KURT ERICKSON: Toccata for Organ, premiere –Aaron David Miller (1990 Visser-Rowland) recorded June 25, 2008
GERALD BALES: Prelude in e; STEPHEN PAULUS: As if the whole creation cried, from Triptych –Isabelle Demers (1990 Visser-Rowland) recorded June 25, 2008
Filler –RON NELSON (see above)