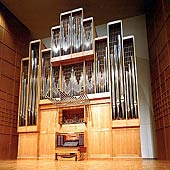 1986 Marcussen organ at Wiedemann Hall, Wichita State University, Kansas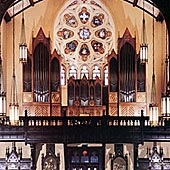 1991 Noack organ, Opus 119, at Sacred Heart Cathedral, Davenport, Iowa
Rorem on Rorem
…we celebrate composer Ned Rorem with performances of his music in anticipation of his 85th birthday.
On this week's show, we visit with Pulitzer Prize-winning composer Ned Rorem and celebrate the remarkable and envigorating repertoire that he has composed for organists and choirs. Is it strange that an agnostic son of Quaker parents should write so compellingly for the church or is everything under the sun just a concert celebrating creativity? Insights from the artist with his art, it's Rorem on Rorem.
Listen to the program
1 hr 28 min
29:42
22:54
35:35
Program Broadcast dates:
•October 20, 2003 as Show #0343
•October 13, 2008 as Show #0841
Links and Resources:
Music played in the program
Part 1
NED ROREM: A Quaker Reader, selections: First Day Thoughts; Mary Dyer did hang as a flag… Evidence of things not seen; The World of Silence –Catharine Crozier (1986 Marcussen/Wiedemann Hall, Wichita State University, Wichita, KS) Delos DE 3076
NED ROREM: Episode & Serenade, from Organbook I; In Nomine Domine, from Organbook II –Delbert Disselhorst (1991 Noack/Cathedral of the Sacred Heart, Davenport, IA) Arkay AR6123
Part 2
NED ROREM: Anthem, Mercy and truth are met together –Concora Ensemble, Richard Coffey, conductor; Larry Allen (1972 Gress-Miles/South Church, New Britain, CT) Albany TROY307
NED ROREM: Motet, Thee, God… –Choir of Trinity Church, James Simms, conductor; Larry King (1958; 1968 Aeolian-Skinner/Trinity Wall Street, New York, NY) Gothic G78932
NED ROREM: Fantasy & Toccata [1946] –Ronald Prowse (1965 Casavant Frères/St. Joan of Arc RCC, Saint Clair Shores, MI) Albany TROY398
NED ROREM: Motet, Exaltabo te, Domine –Choir of Saint Thomas Church, Gerre Hancock, conductor; Judith Hancock (1956 Aeolian-Skinner/St. Thomas Episcopal, New York, NY) Priory PRCD629
Part 3
NED ROREM: 6 Pieces for Organ [1998], premiere –Eileen Hunt (1960 Casavant Frères/First Church of Christ, Scientist; Denver, CO) Pipedreams Archive recorded June 29, 1998
Filler –NED ROREM: Return home to within, from A Quaker Reader (see above)
Pulitzer Prize-winning American composer Ned Rorem [born 10/23/23] has contributed importantly to the repertoires of choirs and organists, among others.