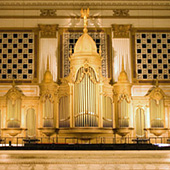 1911 Wanamaker Organ at the Macy's Center City in Philadelphia, PA
The Wanamaker Legacy
…since its inauguration in 1911, the 1911 Wanamaker Organ, at Macy's, has prevailed as an internationally renowned fixture of the downtown Philadelphia commercial and cultural scene. We explore its resources with artist-in-residence Peter Conte and curator Curt Mangel.
Listen to the program
1 hr 28 min
30:16
22:35
35:09

Program Broadcast dates:
Week of September 01, 2008
Links and Resources:
Wanamaker Organ Curators

Curt Mangel

and

Sam Whitcraft

, and their dedicated crew are working overtime to prepare the Grand Court Organ for its upcoming 'debut' with the Philadelphia Orchestra, in particular, reactivating the long-dormant Orchestral Division, a project made possible by a gift from the late Edith Brickman.
Executive Director

Ray Biswanger

talks about the work of the Friends of the Wanamaker Organ, a non-profit support group with an international reach, organized in 1992.
Macy's vice-president of the Parade and Entertainment Group,

Robin Hall

, talks about the important corporate involvement which his company provides to keep the Wanamaker Grand Court Organ alive and well.
Music played in the program
SIR ARTHUR SULLIVAN: H.M.S. Pinafore Overture
ROBERT HEBBLE: Homage to Fritz Kreisler, Londonderry Air
LEONARD BERNSTEIN: Candide Overture
MARCEL DUPRÉ: The World Awaiting the Savior, from Symphonie-Passion, Opus 23
SIR EDWARD ELGAR: Empire March
SIR EDWARD ELGAR: Nimrod, and Finale, from Enigma Variations, Opus 86
LOUIS VIERNE: Toccata, from Pieces de fantasie, Opus 53
MARCEL DUPRÉ: Nativité-Crucifixion-Résurrection, from Symphonie-Passion, Opus 23
Filler –LEONARD BERNSTEIN (see above)
Performances here are derived, in part, from compact discs available on the Gothic Records label, and from recordings made during the American Guild of Organists National Convention, recorded in June of 2004, and the American Theatre Organ Society 'Afterglow' concert from July 2007.
The Wanamaker Grand Court Organ is played daily at Macy's Center City department store in downtown Philadelphia. [Schedule]
A few tickets may still be available for a gala concert on September 27, 2008, in celebration of Macy's 150th Anniversary, when the world's largest functioning pipe organ is presented in concert with the world-renowned Philadelphia Orchestra. More information is available online through the Friends of the Wanamaker Organ. See you there!