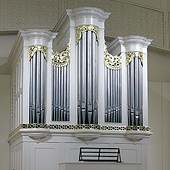 1800 Tannenberg organ in the Old Salem Visitor's Center, Salem, NC
Some Southern Comfort
…in the company of the Organ Historical Society, we make a selective survey of pipe organs new and old in northern North Carolina and southern Virginia.
Listen to the program
1 hr 28 min
31:29
28:27
28:04

Program Broadcast dates:
Links and Resources:
Music played in the program
Part 1
JOHANN LUDWIG KREBS: Prelude in C –Peter Sykes (1800 Tannenberg/Old Salem Visitor Center, Salem, NC) Raven OAR-700
OTTO DIENEL: Komm, O komm, du Geist des Lebens and Lobe den Herrn –Edward Zimmerman (1900 Hutchings/First Presbyterian, Lexington, KY)
ROBERT J. POWELL: Triptych –Carol Britt (1898 Midmer/St. Matthias Episcopal, Asheville, NC)
CHRISTIAN LATROBE: Prelude in G –Michael Rowland (1971 McManis/Gemeinhaus, Bethabara, NC)
WILLIAM BATES: Partita, When in our music, God is glorified –William Bates (1978 Noack/Ardmore UMC, Winston-Salem, NC)
Part 2
HENRY SMART: Allegro Moderato in D –Rosalind Mohnsen (1885 Pomplitz/James Dinwiddie Chapel, Peace College, Raleigh, NC)
JEAN LANGLAIS: Choral, from 24 Pieces –John Bishop (1860 Simmons & Willcox/Mount Vernon UMC, Danville, VA)
FRANÇOIS COUPERIN: Soeur Monique –Rachelen Lien (1994 Farmer/St. Timothy Episcopal, Winston-Salem, NC)
JEREMIAH CLARKE: Hymn, O blest creator, TUNE: Bromble –Scott Carpenter (1994 Farmer/St. Timothy Episcopal, Winston-Salem, NC)
JAMES WOODMAN: Variations, All Creatures of Our God and King –Peter Sykes (1999 Dobson-Rosales/West Market Street UMC, Greensboro, NC)
Part 3
THOMAS BILLINGTON: Concerto in C after Corelli, movement 4; Allegro –James Darling (1877 Simmons/Sacred Heart RCC, Danville, VA)
CHARLES VARDELL: Skyland –Margaret Sandresky. DAN LOCKLAIR: Ayre for the Dance –Dan Locklair
PYOTR TCHAIKOVSKY: Melodie in E-flat, Opus 42, number 3. MODEST MUSSORGSKY: Hopak, from Fair at Sorochintzy –W. Randolph Bourne (1912 Möller/Chatham Presbyterian, Chatham, VA)
RALPH SIMPSON: Roll, Jordan, roll –Will Headlee (1901 Felgemaker/Mount Zion Missionary Baptist, Asheville, NC)
Filler –JOHANN LUDWIG KREBS: Fugue in C (see above)
With one exception, all performances derive from recordings made by the Organ Historical Society during its 2001 National Convention. These and others are available in a 4CD set, OHS-01. The next OHS convention will be held in Seattle, Washington July 14-18, 2008.