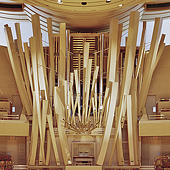 2004 Glatter-Götz, Rosales organin the Walt Disney Concert Hall, Los Angeles, CA
Walt Disney Concert Hall Inaugural
…American organist Frederick Swann plays the first public recital on the unique 109-rank Glatter-Götz-Rosales organ in Los Angeles…and Samuel S. Soria offers a side trip to the nearby Cathedral of Our Lady of the Angels, too.
Listen to the program
1 hr 28 min
35:46
11:29
30:45

Program Broadcast dates:
Links and Resources:
Music played in the program
Part 1
WILLIAM MATHIAS: Fanfare
JOSEF RHEINBERGER: Introduction & Passacaglia, from Sonata Number 8 in e, Opus 132
FANNIE DILLON: Woodland Flute Call
CÉSAR FRANCK: Pièce heroïque
Part 2
ERIC DeLAMARTER: You raise the flute to your lips, from Four Eclogues. PAUL DRAYTON: Pavan. PETER HURFORD: Paean –Samuel S. Soria (2003 Dobson/Cathedral of Our Lady of the Angels, Los Angeles, CA) Delos DE 3343
Part 3
GEORGE C. BAKER: Berceuse-Paraphrase
HEALEY WILLAN: Introduction, Passacaglia and Fugue in e-flat
Frederick Swann: 2 Encores: Allegro after Corelli; Trumpet Tune
Filler –FANNIE DILLON (see above)
This instrument was a collaborative project, with tonal-design by Manuel Rosales and mechanical design by Caspar von Glatter-Götz and the German firm of Orgelbau Glatter-Götz. The organ's façade, and the hall in which it stands, was designed by Frank Gehry, a dramatic array of pipes both memorable and fully functional. Pipedreams Archive recorded September 30, 2004. Check the Los Angeles Philharmonic website for information about the ongoing Disney Hall Organ Series and read our story about Concert Hall Organs.