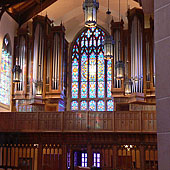 2007 Casavant organ at the Nativity of Our Lord RCC, Saint Paul, MN
Conventional Wisdom
…a preview of some of the performers to be featured in this summer's national convention of the American Guild of Organists.
Listen to the program
1 hr 28 min
33:31
26:57
27:31

Program Broadcast dates:
Links and Resources:
Music played in the program
Part 1
DIETERICH BUXTEHUDE: Praeludium in C, BuxWV 138 –Julia Brown (2003 Pasi/Cathedral of St. Cecilia, Omaha, NE) Naxos 8.570312
CHARLES TOURNEMIRE: Alleluia Number 2, from Suite Number 30, L'Orgue Mystique –Marie-Bernadette Dufourcet Hakim (1868 Cavaillé-Coll/La Trinité, Paris, France) Priory PRCD869
JOHN STANLEY: Voluntary in F. RICHARD WAGNER (transcribed by Edwin H. Lemare): Die Meistersinger Prelude –Todd Wilson (1930 E.M. Skinner/Girard College Chapel, Philadelphia, PA) Pipedreams Archive recorded July 5, 1996
Part 2
GUSTAV HOLST (transcribed by Peter Sykes): Mercury, the Messenger, from The Planets –Peter Sykes (1930 E.M. Skinner/Girard College Chapel, Philadelphia, PA) Raven OAR-380
BARBARA DENNERLEIN: Waltzing Pipes & Rankett Blues –Barbara Dennerlein (1998 Goll/Stadtpfarrkirche Sankt Martin, Memmingen, Germany) Bebab 250970
SIGFRID KARG-ELERT: 3 Chorale-Improvisations, from Opus 65: Number 10, Vom Himmel hoch; Number 22, Sollt ich meinem Gott nicht singen?; Number 8, Macht hoch die Tür –Elke Völker (1914 Walcker/Church of San Ignacio de Loyola, San Sebastian, Spain) Aeolus AE10591
Part 3
J.S. BACH: Chorale-prelude, Nun danket alle Gott, S. 657 –Cristina Garcia Banegas (1755 Trost/Stadtkirche [Town Church], Waltershausen, Germany) Motette CD MOT 12391
HENRY MARTIN: Prelude & Fugue in G –Ken Cowan (2007 Casavant Frères/Nativity of Our Lord RCC, Saint Paul, MN) Pipedreams Archive recorded June 17, 2007
MARCEL DUPRÉ: Epithalame –Jeremy Filsell (1979 Möller/St. Boniface Episcopal, Sarasota, FL) Guild GMCD 7164
PIERRE COCHEREAU: Scherzo Symphonique –Jeremy Filsell (1967 J.W. Walker/Metropolitan Cathedral of Christ the King, Liverpool, England, UK) ASV CD-1104
Filler –BARBARA DENNERLEIN: Rankett Blues (see above)
This year the AGO's national convention takes place in the Minnesota Twin Cities of Minneapolis and Saint Paul, with organ events scheduled between June 21-29, 2008.