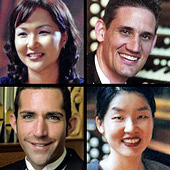 The four prize winners: clockwise Yoon-Mi Lim, Timothy Olsen, Choi, Ji-Yoen and Scott Montgomery.
Taking the Prize
…these gifted youthful performers have earned awards during the last four National Young Artist Competitions in Organ Performance sponsored by the American Guild of Organists.
Listen to the program
1 hr 28 min
30:41
25:47
31:32

Program Broadcast dates:
Links and Resources:
Audio Interviews:
Not too many years ago, Michael Barone received a communication from an enthusiastic youngster in Illinois who was excited about the pipe organ. That boy grew up, followed his pipe dream, and in 2006 won the American Guild of Organists' National Young Artist Competition in Organ Performance [NYACOP].
Music played in the program
Part 1
FRANZ LISZT: Prelude & Fugue on B-A-C-H –Yoon-Mi Lim (1997 Goulding & Wood/St. Meinrad Archabbey, Saint Meinrad, IN) Pro Organo CD 7205
Ms. Lim won the AGO Competition in 2004.
J.S. BACH: Trio Sonata Number 4 in e, S. 528 –Ji-Yoen Choi (1959 Schlicker; 1996 Dobson/Chapel of the Resurrection, Valparaiso University, Valparaiso, IN) Naxos 8.555367
Ms Choi won the AGO Competition in 2000.
Part 2
NED ROREM: Three Pages from A Quaker Reader, A secret power; The world of silence; There is a spirit that delights to do no evil. CÉSAR FRANCK: Choral Number 1 in E –Timothy Olsen (1983 C.B. Fisk/Downtown United Presbyterian, Rochester, NY) and (1990 C.B. Fisk/Slee Hall, SUNY-Buffalo, Buffalo, NY) Naxos 8.557218
Mr. Olsen won theAGO Competition in 2002.
Part 3
NICOLAS de GRIGNY: Prelude, Fugue and Dialogue on Ave maris stella. MAX REGER: Chorale Fantasy, Wie schön leuchtet der Morgenstern, Opus 40, number 1 –Scott Montgomery (2002; 2008 Mander/Peachtree Road UMC, Atlanta, GA) Pro Organo CD 7224
Mr. Montgomery won the AGO Competition in 2006.
Filler –J.S. BACH Trio Sonata Number 4 (see above)
The semi-final and final rounds of this year's NYACOP will take place in the Minnesota Twin Cities of Minneapolis and Saint Paul during the AGO's 2008 National Convention.