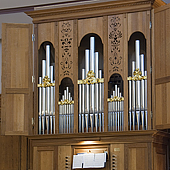 1993 Wilhelm choir organ in the Église Très-Saint-Rédempteur, Montréal, Québec, Canada. Visit this church in person on our Pipedreams Tour to Canada.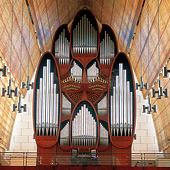 The 2002 Ruffatti organ in the Church of the Epiphany, Miami, FL
The Spirit of Youth
…these talented musicians, all in their twenties, demonstrate again that the future of the pipe organ is in good hands.
Listen to the program
1 hr 28 min
31:26
30:32
26:01

Program Broadcast dates:
Week of February 11, 2008
Links and Resources:
Music played in the program
Part 1
W.A. MOZART: Fantasy in f, K. 608 –Vincent Dubois (1862 Cavaillé-Coll/Église Saint-Sulpice, Paris, France) JAV CD-166
J.S. BACH: Air, from Suite Number 3 in D, S. 1068. MAX REGER: Variations & Fugue on God save the king –Felix Hell (2005 Rieger-Kloss/Independent Presbyterian, Savannah, GA) MSR Classics MS1162
Part 2
FRANÇOIS COUPERIN: Sanctus & Agnus Dei, from Mass for Parish Use –Jean-Baptiste Robin (1790 Clicquot/Cathedral of Saint Peter, Poitiers, France) Naxos 8.557741
CHARLES-MARIE WIDOR: Allegro, Fugue, III, from Symphonie Gothique, Opus 70. WILLIAM BOLCOM: Jesus loves me from Gospel Prelude #1, Book II. MARCEL DUPRÉ: movement 3, Allegro deciso, from Evocation, Opus 37 –Nicole Marane (2001 Ruffatti/Epiphany RCC, Miami, FL) Pipedreams Archive recorded February 2004.
Ms. Marane, a graduate student at the Eastman School, won the first Miami International Organ Competition in 2004. This year's Competition finalists will compete at Epiphany Church on February 22, 2008.
Part 3
DOMENICO SCARLATTI: Sonata in g, K. 31; Sonatas in C, K. 84 & 58 –Vincent Boucher (1993 Wilhelm/Église Très-Saint-Rédempteur, Montréal, Québec, Canada) ATMA ACD2341
SAMUEL SEBASTIAN WESLEY: Andante in C [1871] and Choral Song [1842] –James McVinnie (1873 Henry Willis/St. Michael & All Angels, Tenbury, England, UK) Naxos 8.570410
Filler –MAX REGER (see above)