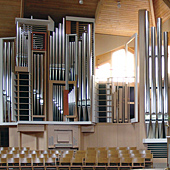 2005 Glatter-Götz, Rosales organ at Augustana Lutheran Church
Piping Hot!
…preluding an early November celebration of the art of the organ, these four internationally-acclaimed soloists will be featured in concerts and personal appearances in Minnesota's Twin Cities.
Listen to the program
Program Broadcast dates:
Links and Resources:
Music played in the program
J.S. BACH: Fantasy & Fugue in g, S. 542 –Hans Fagius (1728 Cahman/Leufsta bruk Church, Sweden) BIS-CD-308/309
CAMILLE SAINT-SAËNS: Prelude & Fugue in C, Opus 109, number 3 –Stephen Tharp (1862 Cavaillé-Coll/Église Saint-Sulpice, Paris, France) JAV CD-130
MARCEL DUPRÉ: Deciso, from Trois Esquisses, Opus 41 –Stephen Tharp (1930 E.M. Skinner/Girard College Chapel, Philadelphia, PA) Ethereal CD-108
J.S. BACH: Allegro, 1st movement, from Trio Sonata Number 5 in C, S. 529. LOUIS VIERNE: Berceuse, from Pieces en style libre. JOHN WEAVER: Fantasia for Organ –Paul Jacobs (2005 Glatter-Götz, Rosales/Augustana Lutheran, West Saint Paul, MN) Pipedreams Archive recorded November 4, 2005.
FELIX MENDELSSOHN: Präludium in c [1841]; Fugue in e [1839]; Prelude & Fugue in c, Opus 37, number 1 [1837] –Jean-Baptiste Robin (1845 Engelhardt/Nicolaikirche, Herzberg am Harz, Germany) and (1735 G. Silbermann/Petrikirche, Freiberg, Germany) Triton 331130
CHARLES-MARIE WIDOR: Allegro molto, Finale from Organ Symphony Number 3 in e, Opus 13, number 3 –Hans Fagius (1976 Åkerman & Lund/Katarina Church, Stockholm, Sweden) BIS-CD-471
During the expanded week of November 3 through 11, 2007, in celebration of the PIPEDREAMS 25 th Anniversary we will present PIPING HOT! in conjunction with Augustana Lutheran in West Saint Paul, the University of Saint Thomas in Saint Paul, Bethel Universityin the Arden Hills in the neighborhood, and House of Hope Presbyterian Church in Saint Paul, these four outstanding artists will present free concerts and related workshops/masterclasses, open to the public.