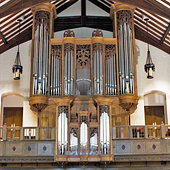 1992 Jaeckel organ at Pilgrim Congregational Church, Duluth, Minnesota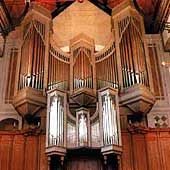 1995 Marcussen organ at Tonbridge School chapel, Kent, England, UK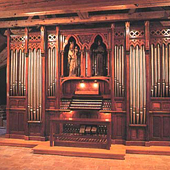 Alain Family organ at Romainmôtier Organ Academy, Switzerland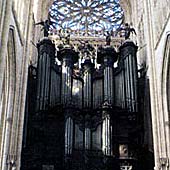 1890 Cavaillé-Coll organ at the Church of Saint Ouen, Rouen, France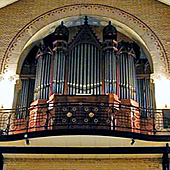 1894 Cavaillé-Coll organ at the Church of Saint Antoine, Paris, France
Alain on Alain
(Part 2)
…the remarkable Marie-Claire Alain talks about the unique power of the compositions by her older brother and first teacher, Jehan Alain [1911-1940].
He wrote one of the best known, and most powerful organ scores of the 20th century, titled Litanies, and during his short life created an astonishing array of deeply communicative compositions. On our next Pipedreams program the works of Jehan Alain will be performed by an international array of soloists, including composer's sister Marie-Claire. Jehan was the talented older brother, Marie-Claire the little black sheep whom he encouraged. Jehan was killed early in World War II, at the age of 29 and Marie-Claire has championed his music ever since, music which now the whole world knows.
Mysterious, miraculous, the music of Jehan Alain, revealed to us by the woman who has championed it throughout her own remarkable international career. Marie-Claire Alain is our special guest for Alain on Alain, this week on Pipedreams.
Listen to the program
Program Broadcast dates:
•February 25, 2002 as Show #0209
•July 16, 2007 as Show #0729
Links and Resources:
Listen to audio excerpts of an interview Michael conducted with Marie-Claire
Jehan's most neglected work…
Remembering her brother…
Jehan's most significant works…
Jehan's prolific output…
His compositional style…
His most popular work, Litanies…
Music played in the program
JEHAN ALAIN: Litanies [1937] –Marie-Claire Alain (1752 Valtrin; 1848 Callinet; 1971 Schwenkedel/Basilique Saint-Christophe, Belfort, France) Erato ECD-88194
JEHAN ALAIN: Suite [1935]:
1st movement, Introduction et Variations –Thomas Trotter (1983 van den Heuvel/Nieuwe Kerk, Ketwijk aan Zee, Netherlands) Argo CD 430 833;
2nd movement, Scherzo –Kevin Bowyer (1995 Marcussen/St. Augustine Chapel, Tonbridge School, Kent, England, UK) Nimbus NI 5551/2;
3rd movement, Choral –Éric Lebrun (1894 Cavaillé-Coll/Église Saint-Antoine des Quinze-Vingts, Paris, France) Naxos 8.553632/33
JEHAN ALAIN: Premiere Fantasie [1933] –Wolfgang Rübsam (1970 Rieger/Marienstatt Abbey, Germany) Bayer BR100 198/9
JEHAN ALAIN: Deuxiemme Fantasie [1936] –Christophe Mantoux (1890 Cavaillé-Coll/Église Saint-Ouen, Rouen, France) Studio SM 1221.61
JEHAN ALAIN: Aria [1938] –James Higdon (1992 Jaeckel/Pilgrim Congregational, Duluth, MN) RBWCD-005
JEHAN ALAIN: Un cercle d'argent, from Trois Minutes –Marie-Claire Alain (1899 Ghys; 1988 Cicchero/Basilique Saint-Ferjeux, Besançon, France) Erato ECD-80214
JEHAN ALAIN: Trois Danses [1937-39]:
1st movement, Joies/Joys –Guy Bovet (Alain Family organ/Maison de la Dime, Romainmotier, Switzerland) Gallo CD-851;
2nd movement, Deuils/Mourning - Funeral Dance to Honor an Heroic Memory –Marie-Claire Alain (1752 Valtrin; 1848 Callinet; 1971 Schwenkedel/Basilique Saint-Christophe, Belfort, France) Erato ECD-88194;
3rd movement, Luttes/Struggle –Marie-Claire Alain (1993 Haerpfer/Valloires Abbey, France) Erato ECD-85773
Filler –Litanies (see above)
Madame Alain has compiled a small book devoted to her brother and his music: Critical Notes on the Organ Works of Jehan Alain, published by Alphonse Leduc, Paris, France with an English translation by Norma Stevlingson.