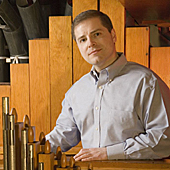 Joe Vitacco III standing in the Echo Organ at Woolsey Hall, photo by Harold Shaprio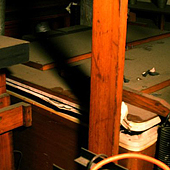 A bellows from the organ at Our Lady of Refuge in Brooklyn NY. This is the instrument that sparked Joe's interest in the pipe organ., photo by Joe Vitacco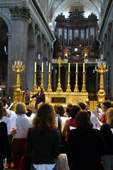 The choir rehearses behind the altar at Saint Sulpice. The grand orgue is in the distance at the other end of the Nave., photo by Joe Vitacco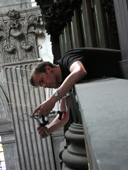 Chris Frommen leans over the edge of the organ loft at Saint Sulpice to set up microphones for the Widor Mass recording session., photo by Joe Vitacco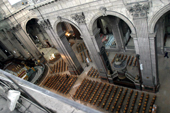 This picture illustrates the massive distance from the grand orgue to the choir on the other side of the altar., photo by Joe Vitacco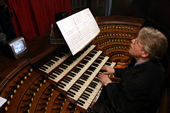 Daniel Roth sits at the grand orgue and watches the conductor through the small TV monitor., photo by Joe Vitacco
Joe's Amazing Venture
A 10th anniversary salute to Joseph A. Vitacco, a young business major from the University of Notre Dame who set out to document some of the world's finest pipe organs.
1 hr 28 min
Listen to the program
Program Broadcast dates:
Week of February 19, 2007
Links and Resources:
Audio Commentary:
Comments from Joe Vitacco:
(
click on the titles below to listen to this additional audio commentary
)
Music played in the program
CHARLES VILLIERS STANFORD: Prelude in d, Opus 105, number 6 –Mark Peterson (1958; 1968 Aeolian-Skinner/Trinity Wall Street, New York, NY) GOONY CD-1996
ALFRED HOLLINS: Concert Overture in C –Roger Fisher (1930 Skinner/St. Peter Episcopal, Morristown, NJ) JAV CD-128
RICHARD PEARSON THOMAS: With wings like eagles –Riverside Choir, Helen Cha-Pyo, conductor; Timothy Smith (1953 Aeolian-Skinner/Riverside, New York, NY) JAV CD-134
MARCEL DUPRÉ: Litanie, Opus 19, number 2b –Joseph A. Vitacco (1971 Aeolian-Skinner/St. Bartholomew Episcopal, New York, NY)
MARCO ENRICO BOSSI: Giga –Ken Cowan (1931 E.M. Skinner/Cathedral of our Lady Queen of the Most Holy Rosary, Toledo, OH) JAV CD-131
FELIX MENDELSSOHN: Prelude in e –Thomas Murray (1927 Skinner/Peristyle Auditorium, Toledo Museum of Art, OH) JAV CD-154
VINCENT YOUMANS: Tea for Two –Skinner Organ Roll #207 (1931 Skinner/Elm Court, Butler, PA) JAV CD-139
MAX REGER: Benedictus, Opus 59, number 9 –Thomas Murray (1929 Skinner/Woolsey Hall, Yale University, New Haven, CT) JAV CD-124
GEORGES BIZET (arranged by Edwin H. Lemare): Carmen Fantasy –Todd Wilson (1921 Skinner/St. Luke Episcopal, Evanston, IL) JAV CD-140
CHARLES-MARIE WIDOR: Marche Pontificale, from Organ Symphony Number 1, Opus 13 –Stephen Tharp (1862 Cavaillé-Coll/Église Saint-Sulpice, Paris, France) JAV CD-130
CHARLES-MARIE WIDOR: Sanctus et Benedictus, from Mass, Opus 36 –Choeur Darius Milhaud, Camille Haedt-Goussu, conductor; Ensemble Dodecamen, Christopher Hyde, conductor; Mark Dwyer & Stephen Tharp (1862 Cavaillé-Coll/Église Saint-Sulpice, Paris, France); Daniel Roth (1862 Cavaillé-Coll/Église Saint-Sulpice, Paris, France) JAV CD-158
CHARLES-MARIE WIDOR: Toccata, fragment from Organ Symphony Number 5 in F –Stephen Tharp (1934 Kilgen/Our Lady of Refuge RCC, Brooklyn, NY) JAV Archive
RICHARD HILLERT: Alleluia! Voices Raise –Saint Patrick's Cathedral Choir, John-Michael Caprio, conductor; Stephen Tharp (1930 Kilgen/St. Patrick Cathedral, New York, NY) Pipedreams Archive recorded July 7, 1996
Other Information:
More information about the extensive catalog of recordings can be found at JAV Recordings.
Special Thanks:
Joe Vitacco wishes to thank these individuals who have contributed to his life and the success of JAV Recordings:
John Karl Hirten, formerly organist at the Cathedral Basilica of Saint James, Brooklyn
Craig Cramer, University of Notre Dame
Christoph Frommen, Aeolus Records
Ed Kelly, Mobilemaster Recordings
Nicholas Thompson-Allen and Joseph Dzeda, of the Thompson-Allen Company, New Haven, CT
Nelson Barden and Associates, Boston, MA
Robert Schopp, of A.R. Schopp's Sons, Alliance, OH
Michael Quimby, of Quimby Pipe Organs Inc., Warrensburg, MO
Also Stephen Tharp, Dan Madden, Peter Stoltzfus, and Janice Jankowski