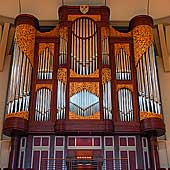 2005 Jaeckel organ at Emory University, Atlanta, GA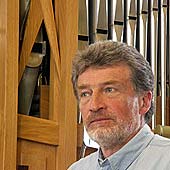 Daniel Jaeckel
The Year of the Jaeckel
In Atlanta, Timothy Albrecht and colleagues celebrate the new pipe organ at Emerson Concert Hall of Emory University's Schwartz Center for the Performing Arts.


Interview with Timothy Albrecht

Interview with Daniel Jaeckel
1 hr 28 min
Listen to the program
Program Broadcast dates:
Week of September 25, 2006
Links and Resources:
Music played in the program
J.S. BACH: Prelude and Fugue in a, S. 543. DAVE BRUBECK: Chorale. TIMOTHY ALBRECHT: Shaker Tune, from Grace Notes. STEPHEN PAULUS: Romp!, premiere –Timothy Albrecht
J.S. BACH: Allegro, from Trio Sonata in c, S. 526 –Hyoun Joo Song
MARCEL DUPRÉ: Allegro deciso, from Evocation, Opus 37 –Raina Wood
PETER PLANYAVSKY: Immer ruhig, from Drei ernste Gespräche –Albrecht Duo
CHARLES VILLIERS STANFORD: Magnificat and Nunc Dimittis in C –Emory University Chorus, Eric Nelson, conductor; Melissa Plamann, organ
ALEXANDER PELOQUIN: Joy, from Suite for Organ –Tamara Albrecht
KENNETH LEIGHTON: Dialogues on a Scottish Psalm-Tune, Opus 73 –Albrecht Duo
CHARLES-MARIE WIDOR: Toccata in F, Opus Organ Symphony Number 5, Opus 42, number 1 –Timothy Albrecht
Our featured instrument, Opus 45
from the Duluth, MN shop of
Daniel Jaeckel
, contains 54 stops and 3605 pipes. Check out
Jaeckel's website
for more details. Recordings were made September 2005-January 2006.