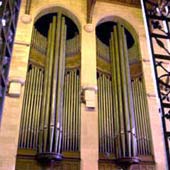 1921 E.M. Skinner organ at Saint Luke's Episcopal, Evanston, IL

1983 Casavant organ at Saint Clement's Church, Chicago, IL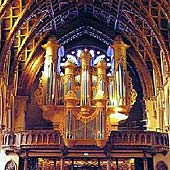 1989 Flentrop organ at Holy Name Cathedral, Chicago, IL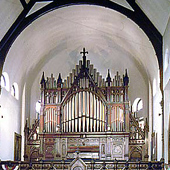 1882 Steere & Turner organ at Pullman UMC, Chicago, IL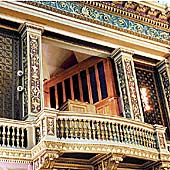 1902 Lyon & Healy organ at the Basilica of Our Lady of Sorrows, Chicago, IL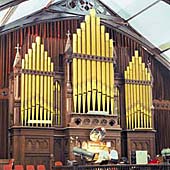 (1875 E. & G.G. Hook & Hastings/Scottish Rite Cathedral, Chicago, IL)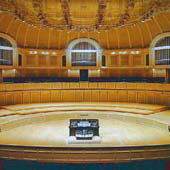 1998 Casavant Frères, Orchestra Hall, Chicago, IL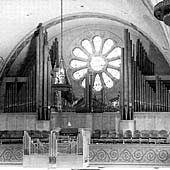 1954 Aeolian-Skinner at St. John Evangelical Lutheran, Forest Park, IL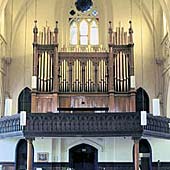 1891 Roosevelt organ at Saint James RCC, Chicago, IL
Windy City Pipes
Sounds of some noteworthy and historic instruments in and around Chicago, as prelude to upcoming national conventions of the American Guild of Organists and Organ Historical Society.
Listen to the program

Program Broadcast dates:
Links and Resources:
Music played in the program
RICHARD WAGNER: Grand March, from Tannhäuser –Ken Cowan (1921 Skinner/St. Luke Episcopal, Evanston, IL) JAV CD-141
FELIX MENDELSSOHN: Sonata Number 5 in D, Opus 65 –Stephen Tharp (1983 Casavant Frères/St. Clement RCC, Chicago, IL) Naxos 8.553583
LOUIS VIERNE: Stele pour un enfant défunt, from Triptique, Opus 58. COR KEE: Psalm 17 –Jan Jongepier (1989 Flentrop/Holy Name Cathedral, Chicago, IL) Lindenberg LBCD-11
WOLFGANG SEIFEN: Chorale-improvisation, Wie schön leuchtet der Morgenstern –Wolfgang Seifen (1971 Aeolian-Skinner/Fourth Presbyterian, Chicago, IL) Pipedreams Archive recorded February 20, 2000
ROY STOUGHTON: The Courts of Jamshyd, GABRIEL DUPONT: Meditation –Mary Gifford (1882 Steere & Turner/Pullman UMC, Chicago, IL) Giffitz CD-001
CARLETON INNISS: Jubilation, from A Spiritual Service –Mary Gifford (1902 Lyon & Healy/Basilica of our Lady of Sorrows, Chicago, IL) Giffitz CD-002
HORATIO PARKER: Eclogue, Opus 36, number 4 –William Aylesworth (1875 E. & G.G. Hook & Hastings/Scottish Rite Cathedral, Chicago, IL) Arsis CD-122
MICHAEL COLGRASS: Finale, from Snow Walker, Concerto for Organ and Orchestra –David Schrader (1998 Casavant Frères/Orchestra Hall, Chicago, IL); Grant Park Orchestra, Carlos Kalmar, conductor; Cedille CD-9063
BEN KANTER: Chicago Rhythm –Jim Kozak (Van der Molen Studio/Wheaton, IL) Ridgeway Productions CD-2006
MAURICE DURUFLÉ: Scherzo, Opus 2. LOUIS VIERNE: Toccata, Opus 53, number 6 –Erik William Suter (1954 Aeolian-Skinner/St. John Evangelical Lutheran, Forest Park, IL) JAV CD-105
FREDERIC ARCHER: Motivo, from Archer's Organ Book [1882] –Michael Surratt, organ. ALEXANDRE GUILMANT: Finale, from Organ Sonata Number 2 in D, Opus 65 –Wolfgang Rübsam (1891 Roosevelt/St. James RCC, Chicago, IL) COHS CD-001
The OHS convention takes place June 25-30, 2006 in and around Saratoga Springs, New York, while the AGO convention will be in the Chicago area July 2-6, 2006. In each case, you are invited to attend!