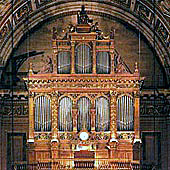 1845 Cavaillé-Coll organ at the Église de la Madeleine, Paris, France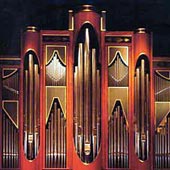 1993 C.B. Fisk organ in the Caruth Auditorium at Southern Methodist University, Dallas, TX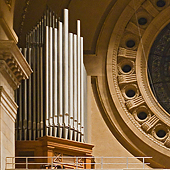 1927 E.M. Skinner & 1963 Aeolian-Skinner organs at the Cathedral of Saint Paul, Saint Paul, MN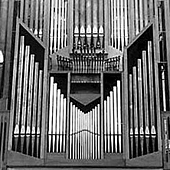 1965 Flentrop organ at Saint Mark's Cathedral, Seattle, WA
Notes on Distaff
Or Woman Composers for the Organ, a survey of some interesting works by some interesting people.
Listen to the program
Program Broadcast dates:
Links and Resources:
Music played in the program
JEANNE DEMESSIEUX: Te Deum –Jeanne Demessieux (1845 Cavaillé-Coll/Église de la Madeleine, Paris, France) Festivo FECD-132
JEANNE DEMESSIEUX: Domine Jesu, from 12 Chorale-preludes on Gregorian Themes, Opus 8. LILI WIERUSZOWSKI: Chorale-preludes: Lobe den Herren; Herr Jesu Christ; Vater unser –Christa Rakich (1932 Kilgen/Church of St. Justin, Hartford, CT) AFKA SK-527
ELLEN TAAFFE ZWILICH: Praeludium [1987] –Robert Anderson (1993 C.B. Fisk/Caruth Auditorium, SMU, Dallas, TX) RCM Classics SMUCD-101, private issue
MARY DOWNEY: 2 Pieces for Organ; Musette [1921] & Bertonelli Sonata [1927] –Curtis Oliver, Robert Vickery (1927 E.M. Skinner; 1963 Aeolian-Skinner/Cathedral of St. Paul, Saint Paul, MN) Pipedreams Archive
PAMELA DECKER: Nightsong [1992] –Pamela Decker (1970 Austin/Lutheran Church of the Redeemer, Atlanta, GA) Pipedreams Archive recording
PAMELA DECKER: Ostinato Dances [1992] –Pamela Decker (1965 Flentrop/Episcopal Cathedral of St. Mark, Seattle, WA) Albany TROY140
KATHLEEN SCHEIDE: Gnostic Incantation –Kathleen Scheide (1897 Hutchings/Basilica of our Lady of Perpetual Help "Mission Church", Boston, MA) Pipedreams Archive
AMY CHENY BEACH: Prelude on an Old Folk Tune. EMMA LOU DIEMER: Fantasie [1958] –Christa Rakich (1932 Kilgen/Church of St. Justin, Hartford, CT) AFKA SK-527
This program was originally issued as #9509 in February 1995.