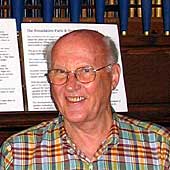 George Steinmeyer Interview with pictures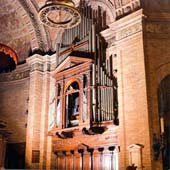 1938 Aeolian-Skinner organ at Saint Paul's Chapel, Columbia University, New York, NY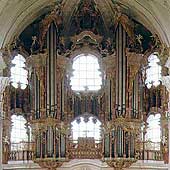 1750 Gabler organ at Weingarten Abbey, Germany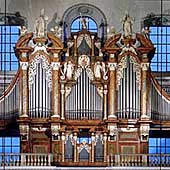 1924 Mauracher organ at Salzburg Cathedral, Austria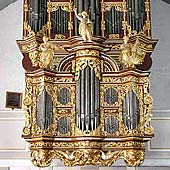 1680 Arp Schnitger organ at Saint Peter & Paul Church, Cappel, Germany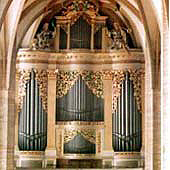 1714 Gottfried Silbermann organ at Freiberg Cathedral, Germany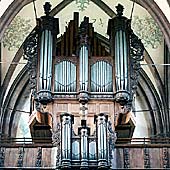 1710 Andreas Silbermann organ at Marmoutier Abbey, France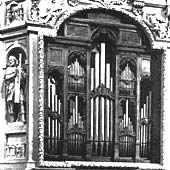 1596 Malamini organ at San Petronio Basilica, Bologna, Italy
E. Power to the People
Part one of a two part celebration of the 100th birthday of one of the most influential and effective advocates for the pipe organ, the late, great Edward George Power Biggs, March 29, 1906—March 10, 1977.
Listen to the program
Program Broadcast dates:
In this program, we listen to several of Biggsy's earliest recordings with some drawn from 78-rpm sources, and recall his path—breaking 'rediscovery' of historic pipe organs in Germany, Spain, France, England, Italy, and Austria, which offered new sonic perspectives to America's music lovers. We also include reminiscences from Georg Steinmeyer, then a young German visiting the United States whom Biggs hired to make travel arrangements and assist with recordings during the first two European expeditions in 1954 & 1955.
Links and Resources:
Music played in the program
J.S. BACH: Toccata in d, S. 565 (1950 Aeolian-Skinner/Symphony Hall, Boston, MA) Columbia ML-4500, 1951; (1958 Flentrop/Adolphus Busch Hall, Harvard University, Cambridge, MA) Sony Classical SBK 46551
J.S. BACH: 2 Chorale-preludes Nun freut euch, lieben Christen, S. 734; Nun komm, der Heiden Heiland, S. 659 (1937 Aeolian-Skinner/Germanic Museum, Harvard University, Cambridge, MA) RCA M-616, 1939
J.S. BACH: Passacaglia in c, S. 582, excerpt: finale (1932 Aeolian-Skinner/Memorial Church, Harvard University, Cambridge, MA) RCA DM-1048, 1946
DARIUS MILHAUD: Pastorale (1938 Aeolian-Skinner/St. Paul Chapel, Columbia University, New York, NY) Columbia ML-4331, 1950
J.S. BACH (attributed): Fugue in C, Fanfare (1950 Aeolian-Skinner/Symphony Hall, Boston, MA) Columbia ML-4500, 1951
J.S. BACH: Prelude & Fugue in c, S. 549 (1721 Schnitger/St. Michael Church, Zwolle, The Netherlands) Columbia MS-6005, 1958
JOHANN PACHELBEL: Toccata in d (1750 Gabler/Weingarten Abbey, Germany) Columbia KSL-219, 1955
W.A. MOZART: Festival Sonata in C, K. 329 –Camerata Academica, Bernhard Paumgartner, conductor (1924 Mauracher/Salzburg Cathedral, Austria) Columbia K3L-231, 1956
ERNST PEPPING: Chorale-prelude, Freut euch, ihr Christen alle (1680 Arp Schnitger/St. Peter & Paul Church, Cappel, Germany) Columbia M2S-697, 1964
J.S. BACH: Chorale-prelude, In dulci jubilo, S. 740 (1770 Mallon; 1942 Schuke/Stadtpfarrkirche, Eisenstadt, Austria) CBS Masterworks MK 42646, 1963
JOHANN GOTTFRIED WALTHER: Concerto in A after Gentili (1714 Gottfried Silbermann/Freiberg Cathedral, Germany) Columbia M-31205, 1972
J.S. BACH: Toccata in C, S. 564 –four organs (4 organs, by Rieger, Marcussen, Spáth and Fischer & Kraemer/Münster Unserer Lieben Frau, Germany) CBS Masterworks MK 42643, 1973
ANTOIO de CABEZON: Dic nobis Maria (1801 Verdalonga/Toledo Cathedral, Spain) Columbia KL-5167, 1957
PADRE ANTONIO SOLER: Emperor's Fanfare, from Concerto Number 6 (Emperor's Organ/Toledo Cathedral, Spain) Columbia MS-7109, 1968
FRANÇOIS COUPERIN: Fanfare in D; Rondeau in D (1710 Andreas Silbermann/Abbey Church of Saint Etienne, Marmoutier, France) Columbia MS-7438, 1972
DON CARLO GESUALDO: Gagliarda del Principe (1596 Malamini/Basilica of San Petronio, Bologna, Italy) Columbia MS-7379, 1969
GIOVANNI GABRIELI: Intonation on the 11th Tone; Motet in 14 Parts for 3 Choirs, Nunc dimittis –Texas Boys Choir; Gregg Smith Singers; Edward Tarr Brass Ensemble, Vittorio Negri, conductor (Rieger chamber organ) CBS Masterworks MK 42645, 1968
G.F. HANDEL: Organ Concerto Number 12 in B-flat, Opus 7, number 6 –London Philharmonic Orchestra, Sir Adrian Boult, conductor (1747 Parker/St. James Chapel, Great Packington, England, UK) CBS Odyssey MB3K 45825