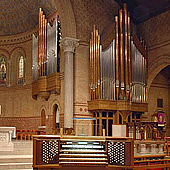 2003 Berghaus organ at Saint Stephen's Episcopal Church, Wilkes-Barre, PA
The Gem Polished
A visit to northeastern Pennsylvania to explore the renovated Berghaus pipe organ at Saint Stephen's Episcopal Church in Wilkes-Barre, Pennsylvania.
Listen to the program
Program Broadcast dates:
Week of February 13, 2006
Featured Organ:
Links and Resources:
Music played in the program
JOHN AYER: Fanfare in G –John Ayer
ANTONIO VIVALDI (transcribed by Bach): Allegro, from Concerto in a, S. 593 –Kevin O'Malia
CHARLES TOURNEMIRE: Choral-Fantasy, Victimae Paschali –Kevin O'Malia
FELIX MENDELSSOHN: Organ Sonata Number 2 in c, Opus 65, number 2 –John Ayer
MARCEL DUPRÉ: Antiphon, While the king sitteth, Opus 18, number 1
HERBERT HOWELLS: Psalm Prelude Number 2, Psalm 37
J.S. BACH: Chorale-prelude, Herr Gott, nun schleuss den Himmel auf, S. 617
CRAIG PHILLIPS: Prelude on Hyfrydol
RULON CHRISTIANSEN: Prelude on Three Spirituals –John Ayer
EDWARD DIEMENTE: Prelude Number 2 –John Ayer
MARK LAUBACH: Hymn Prelude, Jesus Christ is ris'n today
HEALEY WILLAN: Hymn-prelude, Gelobt sei Gott
MARCEL DUPRÉ: Antiphon, I am black but comely, Opus 18, number 3
SIR DAVID WILLCOCKS: Fanfare on Gopsal
JOHN GOSS: Hymn, Lauda anima
SIR EDWARD ELGAR: Imperial March
This 87-rank pipe organ, completed in 2003 by the Berghaus Organ Company of Bellwood, IL, is played by resident music director Mark Laubach unless otherwise noted. Available on Pro Organo CD 7125.
Michael Barone was born in Kingston, Pennsylvania, just across the Susquehanna River from Wilkes-Barre and returns to his 'home territory' as host for a pair of Pipedreams Live! events, jointly sponsored by the Wyoming Valley and Scranton chapters of the American Guild of Organists, the University of Scranton, and WVIA Public Broadcasting. Join Michael and friends at the Houlihan-McLean Center of the University Scranton, the former First Baptist Church, and Scranton's Cathedral of Saint Peter, Saturday, February 25; afternoon and evening, and at Saint Stephen's Church in Wilkes-Barre, Sunday, February 26; 4 p.m.