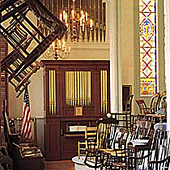 1840 anonymous organ at the Hitchcock Museum in Riverton, Connecticut
Connecticut History
A glimpse into America's organbuilding past, exemplified by the work of a dozen builders found in and around New Haven.
Listen to the program
Program Broadcast dates:
Links and Resources:
Music played in the program
WILLIAM WALOND: Voluntary, Opus 1, number 5 –Lynn Edwards Butler (1823 Hall/Trinity Episcopal, Litchfield, CT)
HERBERT HOWELLS: 4 Miniatures –Stephen Long (1833 Whiting/St. Paul Episcopal, Otis, CT)
JOHN STANLEY: Voluntary Number 8 –Victoria Wagner (1836 Smith/Hampton Congregational UCC, Hampton, CT)
HARRY ROWE SHELLEY: Berceuse –Richard Hill (1868 Steere & Turner/St. Thomas Aquinas Chapel, University of Connecticut, Storrs, CT)
LEE MITCHELL: Toccata on Weinbergli –Laraine Olson Waters (1868 Odell/Derby Methodist, Derby, CT)
JOHANN CHRISTIAN BACH: Allegro, from Duetto in F, Opus 18, number 6 –Dana Robinson, Paul Tegels (1840 Anonymous/Hitchcock Museum, Riverton, CT)
LEO SOWERBY: In dulci jubilo –William Aylesworth (1873 Johnson/Congregational Church of Thompson, UCC, Thompson, CT)
SIR HUBERT PARRY: Toccata & Fugue, Wanderer –Bruce Stevens (1871 E. & G.G. Hook/St. Mary RCC, New Haven, CT)
JOHN WILLCOX: Hymn, Praise the Lord, ye heavens adore him –John Cummins (1876 Jardine/St. Paul Episcopal, New Haven, CT)
RALPH VAUGHAN WILLIAMS: 2 Preludes on Welsh Folk Songs: Romanza; Saint David's Day –Thomas Murray (1929 Skinner/Woolsey Hall, Yale University, New Haven, CT) JAV CD-124
JOSEPH AHRENS: Partita, Lobe den Herren –Will Headlee (1951 Holtkamp/Battell Chapel, Yale University, New Haven, CT)
SIR HUBERT PARRY: Hymn, Jerusalem –R. Walden Moore (1935 Aeolian-Skinner/Trinity Episcopal, New Haven, CT)
The majority of these performances were recording during a national convention of the Organ Historical Society and published on OHS CD-94.