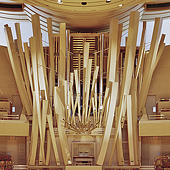 2004 Glatter-Götz, Rosales organ at Walt Disney Concert Hall, LA, CA
Hall Marks
This week we visit three recent and noteworthy pipe organ installations in American concert halls.
Listen to the program
Program Broadcast dates:
The Walt Disney Concert Hall organ, built by Glatter-Götz with tonal design and voicing by Rosales, was first played during the 2004 National Convention of the American Guild of Organists. It will be featured in a variety of solo recitals and performances with the Los Angeles Philharmonic throughout its 2004-2005 inaugural season. The Jacksonville Casavant-Quimby organ will be heard in four solo recitals and the Saint-Saëns' Organ Symphony. And, with Thomas Trotter as guest soloist, the Klais organ at Overture Hall will be the special focus of three upcoming concerts with the Madison Symphony, November 19-21, and a solo recital, November 23, as well as subsequent events.
Music played in the program
CRAIG SELLER LANG: Fanfare. J.S. BACH: Fugue in E-flat, S. 552, Saint Anne. J. STUART ARCHER (arranged): Londonderry Air. MAX REGER: Introduction and Passacaglia in d –Sam Hutchison (2004 Klais/Overture Hall, Madison, WI) Pipedreams Archive recorded October 15, 2004
LOUIS VIERNE: Carillon, from 24 Pieces in Free Style, Opus 31. ANDREW CLARKE: Dance and Pastorale on Two Shaker Tunes: Simple Gifts; The Humble Heart. ANDREW CLARKE: Partita on A Mighty Fortress Andrew Clark (1914 Casavant; 2000 Quimby/Jacoby Symphony Hall, Times-Union Center for the Performing Arts, Jacksonville, FL) RPC CD-2003
LOUIS VIERNE: Naiades, from Fantasy Pieces, Opus 55, number 4. MAX REGER: Fantasia on B-A-C-H, Opus 46a. NAJI HAKIM: Danse & Finale, from Homage a Igor Stravinsky Joseph Adam (2004 Glatter-Götz, Rosales/Walt Disney Concert Hall, Los Angeles, CA) Pipedreams Archive recorded July 8, 2004