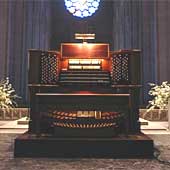 1934 Aeolian-Skinner organ at Grace Episcopal Cathedral, San Francisco, California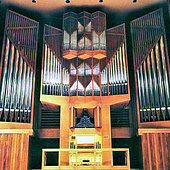 1974; 2010 Kuhn organ at Alice Tully Hall, Lincoln Center, New York, New York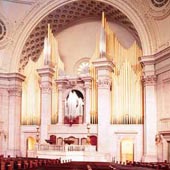 1949 Aeolian-Skinner organ at First Church of Christ, Scientist, Boston, Massachusetts
In Memoriam Catharine Crozier
…a tribute to one of America's foremost recitalists and teachers, January 18, 1914 — September 19, 1903.
Poise and brilliant playing were her hallmarks. They were evident at her national debut in 1942 and also in every recital presented during the next five decades. This week, we honor Catharine Crozier. She was an esteemed faculty member of the Eastman School, an internationally touring soloist, and an icon of integrity in her art. We'll hear Dr. Crozier in CD recordings and also in a remarkable recital performance from the Christian Science Mother Church in Boston, proving that she was still at the top of her form at age 76. We honor the life and memory of a revered teacher and organist of the top echelon.
1 hr 28 min
Program Broadcast dates:
Links and Resources:
Music played in the program
Hour 1
FRANZ LISZT: Prelude & Fugue on B-A-C-H (1934 Aeolian-Skinner/Grace Episcopal Cathedral, San Francisco, CA) Delos CD-3090
MILOS SOKOLA: Passacaglia quasi Toccata na Tema B-A-C-H (1974 Kuhn/Alice Tully Hall, Lincoln Center, New York, NY) Gothic G49041
WILLIAM ALBRIGHT: Nocturne, from Organ Book
LARRY KING: Fanfares to the Tongues of Fire
DANIEL PINKHAM: A Prophecy
HERMAN BERLINSKI: The Burning Bush
RAYNER BROWN: selection from Papillons
–(1949 Aeolian-Skinner/Boston's First Church of Christ, Scientist, Boston, MA) 1990 AGO Convention recorded June 26
LEO SOWERBY: Passacaglia, from Symphony in G (1935 Aeolian-Skinner/St. John's Chapel of the Groton School, Groton, MA) Delos CD-3075
Filler – SOWERBY : Requiescat in pace (1935 Aeolian-Skinner/St. John's Chapel of the Groton School, Groton, MA) Delos CD-3075
A Memorial Service and Concert will be held on January 26, 2004 at Trinity Episcopal Cathedral, Portland, Oregon, where Ms. Crozier had been artist-in-residence.
A superb DVD featuring Dr. Crozier in interviews, performances and master-class excerpts is available from the online store of the American Guild of Organists.