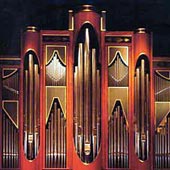 1993 C.B. Fisk organ in the Caruth Auditorium at Southern Methodist University, Dallas, TX
From the Dallas Competition
With more than $50,000 in prize-money, the Dallas International Organ Competition attracts top-grade talent. This week, we'll listen to three superb finalists, each with musicianship worthy of international exposure. Jeremy Bruns hails from Muleshoe, Texas, but now directs the music program at All Saints Church-Ashmont near Boston. Sarah Baldock, from England, is the assistant at Winchester Cathedral and is also on the Calgary Academy Faculty in Canada. Bradley Hunter Welch is the organist at Highland Park Presbyterian Church in Dallas.
On the Fisk organs at Southern Methodist Unversity and the Meyerson Symphony Center they perform pieces from the French repertoire, plus works by Reger, Bolcom and Bach. Enjoy young artists in award-winning performances From the Dallas Competition.
Listen to the program
Program Broadcast dates:
Links and Resources:
Jeremy S. Bruns, a native of Muleshoe, Texas, won Third Prize, $5000. Sarah Baldock, of England, took Second Prize, $10,000. Dallas resident, Bradley Hunter Welch, earned First Prize, $30,000; and the Audience Prize, $5000. The next Dallas International Organ Competition will be held in the spring of 2006.
Music played in the program
J.S. BACH: Prelude & Fugue in a, S. 543 –Jeremy Bruns (1992 C.B. Fisk/Meyerson Symphony Center, Dallas, TX)
LOUIS VIERNE: Scherzo, from Organ Symphony Number 5, Opus 47 –Sarah Baldock (1992 C.B. Fisk/Meyerson Symphony Center, Dallas, TX)
*WILLIAM BOLCOM: Gospel Prelude, What a friend we have in Jesus, Book 1 –Bradley Hunter Welch, organ (1993 C.B. Fisk/Caruth Auditorium, SMU, Dallas, TX)
JEHAN ALAIN: Joies, from Trois Danses –Jeremy Bruns (1992 C.B. Fisk/Meyerson Symphony Center, Dallas, TX)
CÉSAR FRANCK: Choral Number 2 in b –Sarah Baldock (1992 C.B. Fisk/Meyerson Symphony Center, Dallas, TX)
*MAX REGER: Introduction, #5 & Passacaglia, #6 in f, from Monologue, Opus 63. CHARLES-MARIE WIDOR: Allegro, from Symphony Number 6, Opus 42, #2 –Bradley Hunter Welch, organ (1993 C.B. Fisk/Caruth Auditorium, SMU, Dallas, TX)