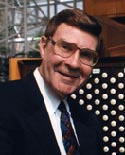 Frederick Swann
Swann Song
After sixty years as a church musician, Frederick Swann is hanging up his organ shoes. We celebrate his art as he reminisces about his life experiences.
He came to prominence first as organist at the Riverside Church in New York City. This week, we'll review the remarkable career of Frederick Swann, one of the most highly regarded American organists, as he reflects on his sixty-year career in the spotlight. In music by Franck and Farnam, Clarence Dickinson and some of his own compositions, we'll hear Fred at Riverside, the Crystal Cathedral and First Congregational Church, Los Angeles, all churches with pipe organs of more than 200 stops each.
Even as a kid he knew what he wanted to do, and has done it masterfully a life fully lived Frederick Swann. Tune in for his Swann Song, with every verse an adventure.
Listen to the program

56:45 Min
31:16 Min
Program Broadcast dates:
Links and Resources:
Fred Swann began his career at the age of 10. He has presided over three of the largest church pipe organs in America and has played recitals throughout the world. He serves as president of the American Guild of Organists.
Music played in the program
SETH BINGHAM: The Bells of Riverside (1953 Aeolian-Skinner/Riverside, New York, NY) Gothic G49086
LYNNWOOD FARNAM: Toccata on O Filii et Filiae (1953 Aeolian-Skinner/Riverside, New York, NY) Gothic G49082
SIR EDWARD ELGAR: Prologue to The Apostles –Riverside Church Choir, Frederick Swann, conductor (1953 Aeolian-Skinner/Riverside, New York, NY) Gothic G49131
CLARENCE DICKINSON: The Joy of the Re-deemed (1953 Aeolian-Skinner/Riverside, New York, NY) Gothic G49086
FREDERICK SWANN: Let the whole creation cry. Trumpet Tune. Prayer. The Unchanging God –Crystal Cathedral Choir, Frederick Swann, conductor (1962 Aeolian-Skinner; 1977 Ruffatti/Crystal Cathedral, Garden Grove, CA) Gothic G49048
FREDERICK SWANN (arranged): The Queen's Prayer (1960 Aeolian-Skinner/Cathedral of St. Andrew, Honolulu, HI) Gothic G49092
FREDERICK SWANN: Fanfare a Saint Clothilde (1953 Aeolian-Skinner/Riverside, New York, NY) Gothic G49086
CRAIG SELLER LANG: Tuba Tune (1997 Reuter/St. Mel RCC, Woodland Hills, CA) Gothic G49102
G.F. HANDEL: Voluntary on a Flight of Angels (1997 Reuter/First German UMC, Glendale, CA) Gothic G49102
JOHN WEAVER: Fugue on Saint Denio (1932 Skinner; 1969 Schlicker/First Congregational, Los Angeles, CA) Gothic G49118
CÉSAR FRANCK: Choral Number 1 in E (1962 Aeolian-Skinner; 1977 Ruffatti/Crystal Cathedral, Garden Grove, CA) Gothic G49049